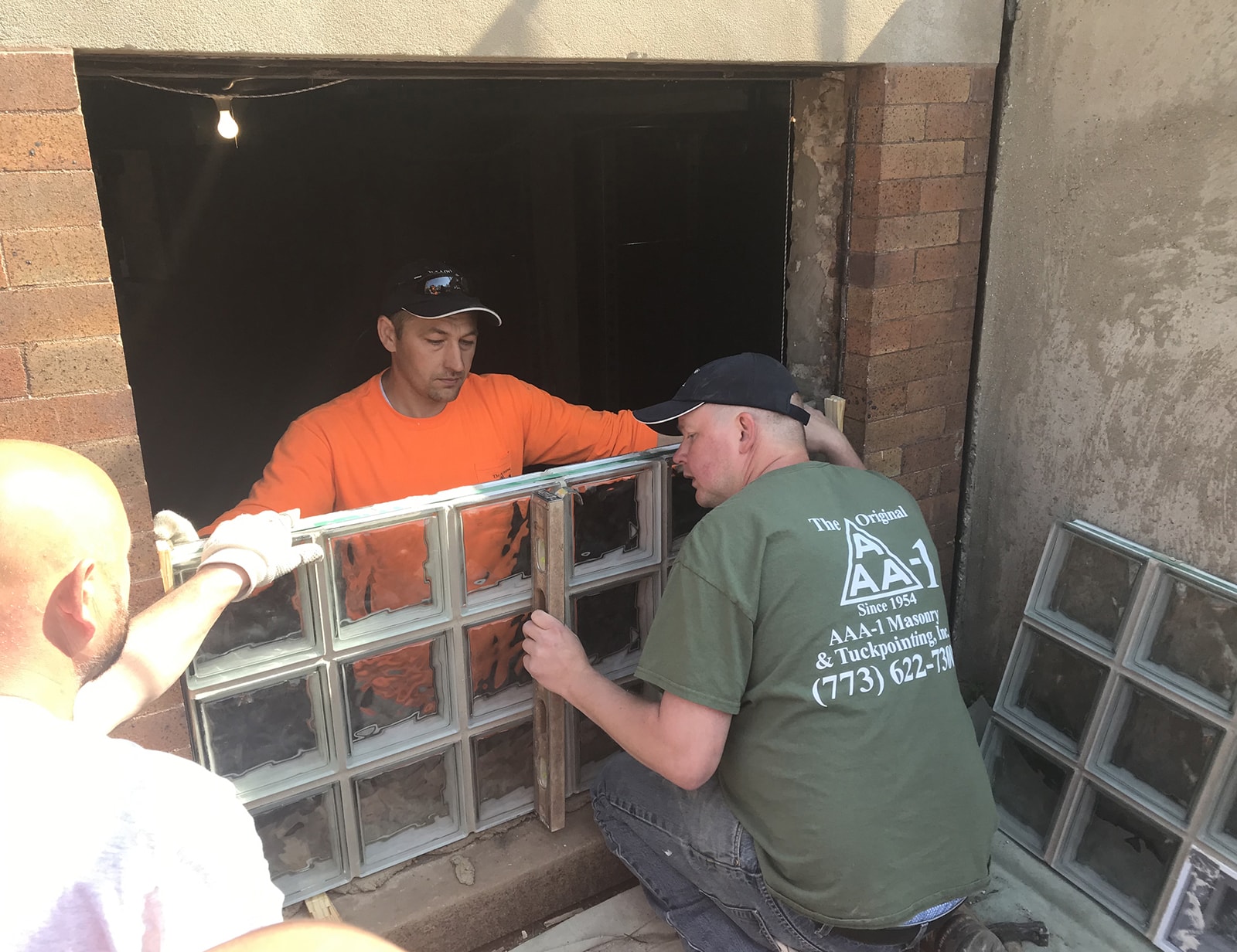 Traditional windows with an operable sash are made by companies like Marvin, Pella and Kolbe, and are commonly installed by a carpenter or window contractor. But because glass block windows require the use of mortar, their installation is best left to licensed masons.
Glass block windows are comprised of individual glass blocks and these come in a multitude of patterns (e.g., wavy glass, opaque glass, diamond-etched glass, etc.) and sizes (e.g., 12" X 12" panes, 8" X 8" panes, 4 X 6" panes, etc.)
In this photo, the masons are installing a wavy-styled glass block window unit in a basement opening. The individual glass blocks measure 8" X 8" and provide a modicum of privacy.
Because glass blocks have thick interior and exterior glass walls, glass block windows are very strong and provide an extra level of security not found in traditional windows (from time to time we find small caliber bullets trapped between the panes of glass).
Glass block windows can be constructed pane by pane in the field using mortar but this does not produce a very weather-tight product because mortar does not bond well to glass. To ensure the highest quality glass block windows, we construct our windows differently: First we lay out the glass blocks on a flat table in the configuration required. Then Portland cement is added between the individual glass blocks, the entire unit gets banded together with steel strapping, and then baked in a temperature controlled kiln which allows the Portland cement to fuse to the glass blocks.(We only use mortar around the perimeter of the glass block window during field installation where the blocks make contact with the brick jambs and windowsill.)
AAA-1 Masonry & Tuckpointing has been installing glass block windows for almost as long as there have been glass block windows!For a free estimate for your next glass block window project, please give us a ring at 773/622-7300 or via e-mail at Info@AAA1Masonry.com.
Thank you,
Rob
---
Friday May 10, 2019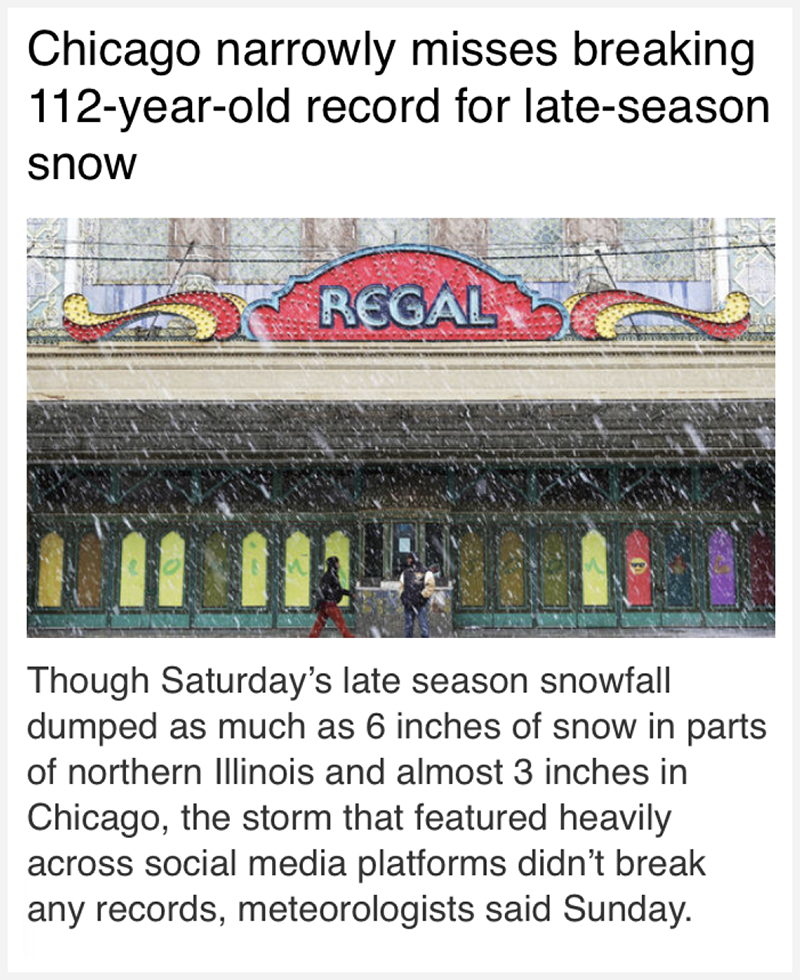 Weather plays an outsized role in everything we do here at AAA-1 Masonry & Tuckpointing.
Hot weather requires us to pre-wet building materials, increase the water content of our mortar mixes, and remain aware of our own physical condition. Colder weather requires stiffer mortar mixes and vigilant protection of the work area to ensure our mortar remains frost-free. Inclement weather requires us to protect the job site with additional tarps.
Customers often ask on what day we start our masonry season in the spring, and there really is no one consistent date. We start the season when the nighttime temperatures are above 28°F with consistency. We focus our attention on the nighttime temperatures more than the daytime temperatures because the coldest temperatures typically come at night and, in the spring especially, we must stay vigilant to ensure we keep our mortar above 28°F or risk the formation of ice crystals (a sure-fire way to reduce the longevity of the mortar).
Some years, the work season begins in mid-March; in other years the season doesn't really get underway until mid-April or later. In some years, our work season continues right up to the week of Christmas; in other years the cold weather descends upon the area in late November and never warms up sufficiently until the following year. It all depends on what Mother Nature throws our way. This year we had near record-breaking snow accumulations in the final days of April, and May is shaping up to be the wettest on record. (I snapped this photo in front of our office on Saturday, April 27 only a short time after the flakes started to fall. Look at that accumulation!) With inclement weather come work delays. Yes, this makes sense logically but it is still frustrating to explain to patient customers in July that the delay getting to their project is in whole or in part due to the rotten weather experienced back in April and May.
Because we will not work when nighttime temperatures are too cold (and we won't add anti-freeze, accelerants and other mortar conditioners to work in these inappropriate conditions since they reduce the life expectancy of the mortar), we can usually work for about 9 months of the year. That's not a lot of time to help homeowners, condominium associations, property managers, commercial building owners, and schools and churches address their masonry issues! So if you have a project you're thinking of tackling, the best time to call for a free estimate is in the spring and summer months when the backlog is low and there is plenty of availability on our schedule board. Although we meet with clients and draft proposals throughout the year, waiting until October or November to meet with one of our licensed project managers almost always means the work will need to be scheduled for the following year.
Next time you notice cracks, leaks, deflection or other issues with your masonry, please do not hesitate to contact AAA-1 Masonry & Tuckpointing for a free estimate.
Stay dry!
-Rob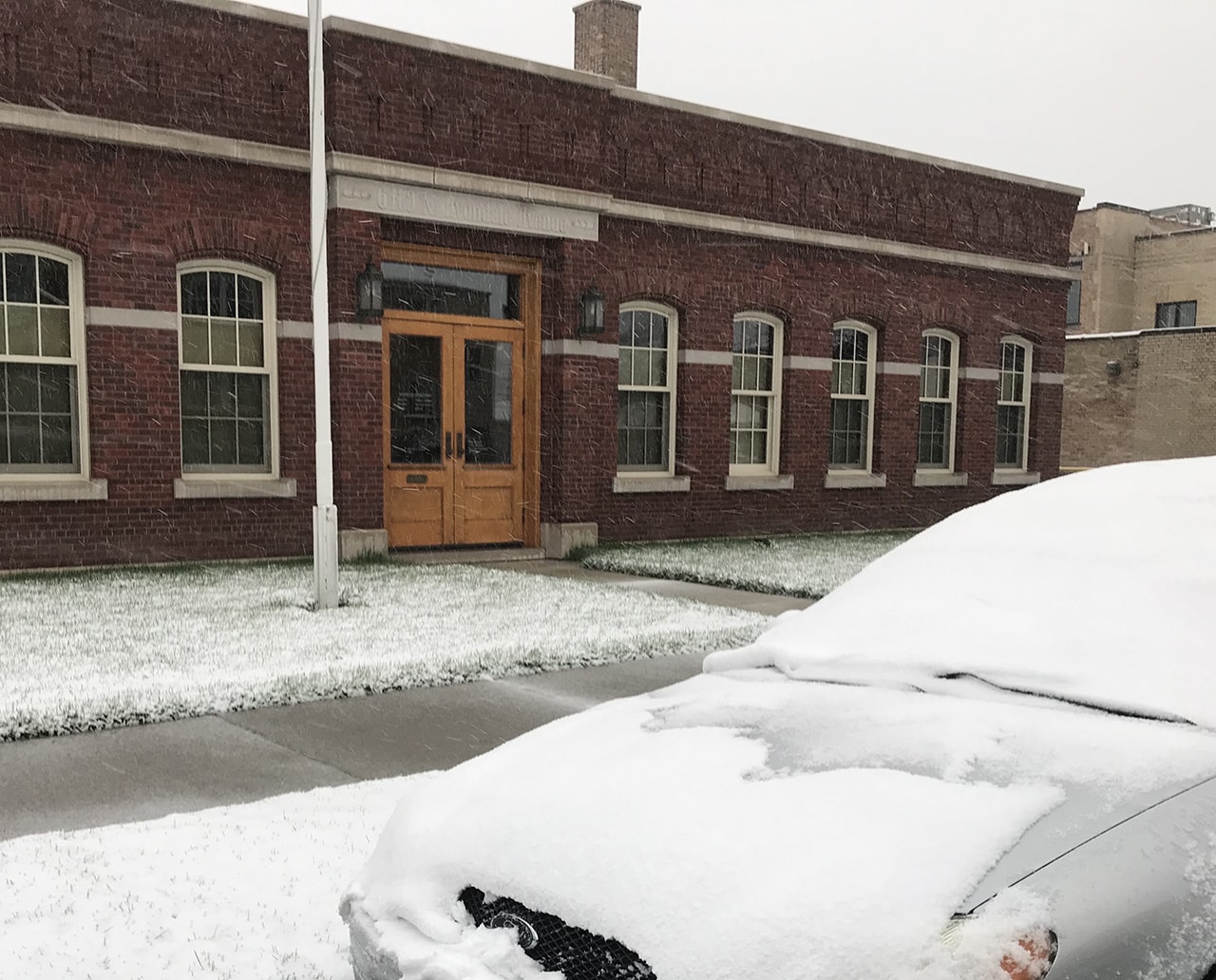 ---
Friday April 19, 2019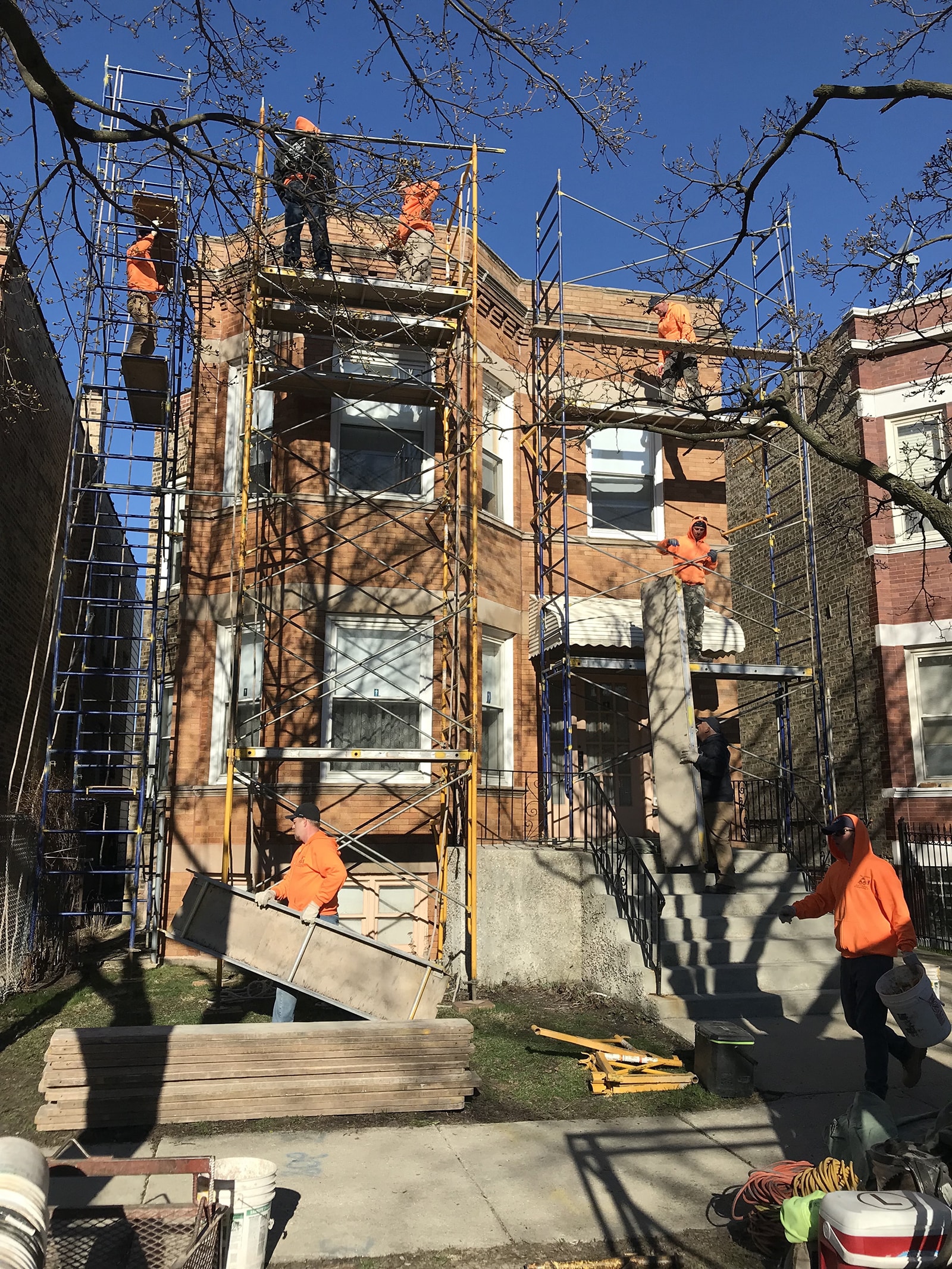 It feels very, very good to be able to identify a problem and get it fixed. And when that problem is impacting the quality of life of a senior citizen, resolving the issue feels all the sweeter. Such was the case last week when we had the opportunity to assist Ms. Latham with a growing years-long leak in her East Albany Park two-flat. Due to long-standing issues with her parapet wall, the second floor of her century-old building had become extremely leak prone and uninhabitable.
After one of our larger crews erected pipe scaffolding (photo #1) and tore into the parapet wall, the source of her problem was evident: defective mortar joints and eroded parapet wall capstones had allowed water to infiltrate the wall cavity and wreak havoc with her interior wall and ceiling finishes. With the assistance of many decades of freeze/thaw damage, the mortar between the bricks had turned back into a powdery form resembling that of beach sand (photo #2).
Fortunately the bricks themselves were in near pristine condition (not unusual when dealing with bricks from the late 19th and early 20th centuries), so we were able to re-use many of them in order to maintain the original character of the residence.
Very happy to report that after several days of work, the second floor leaks have stopped, the facade of the building looks terrific and the parapet wall performs the way it should.
Should you notice leaks through your masonry walls, please do not hesitate to reach out to us for a free estimate.
Thank you for the opportunity to be of service.
-Rob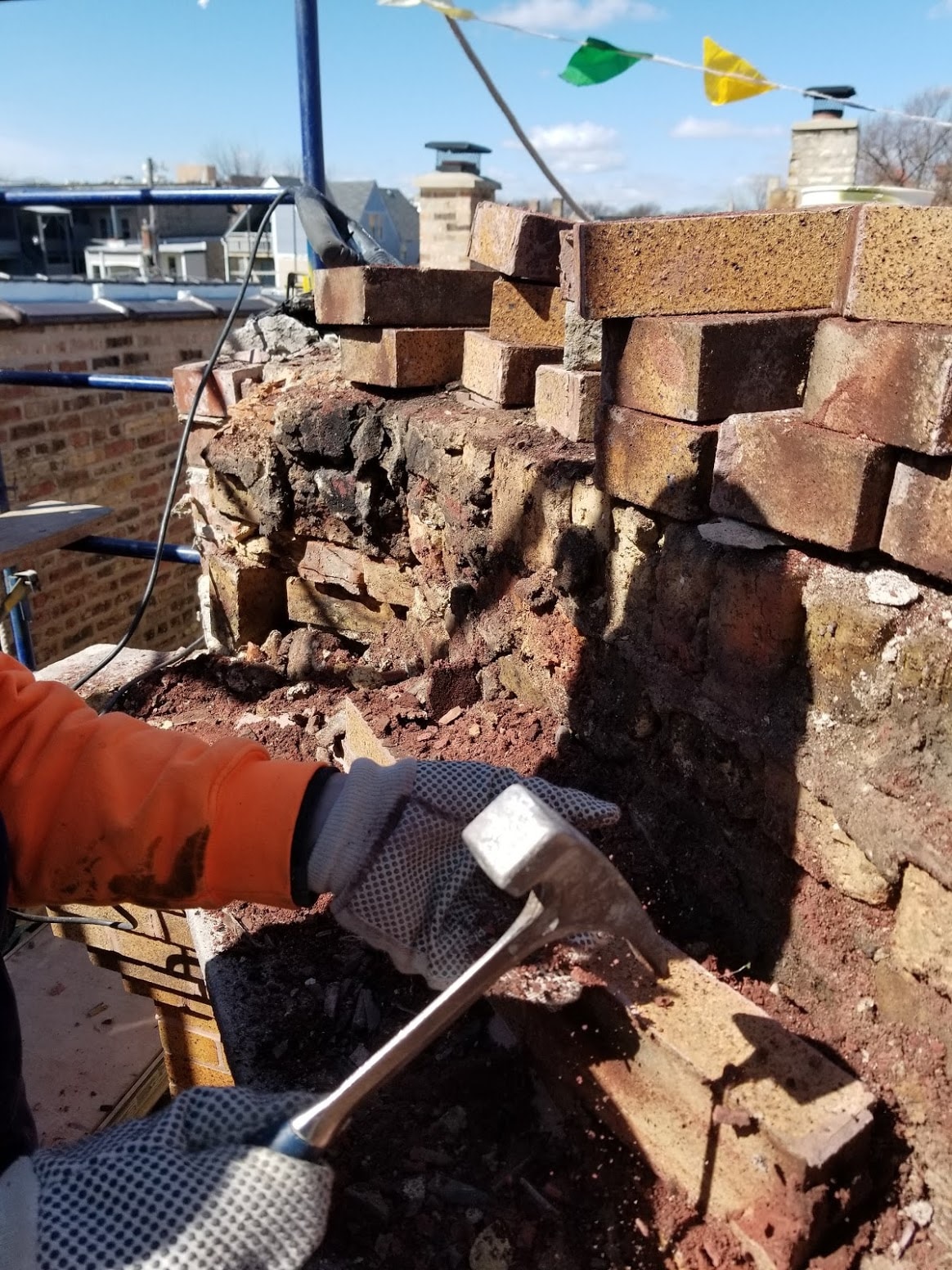 ---
Friday March 15, 2019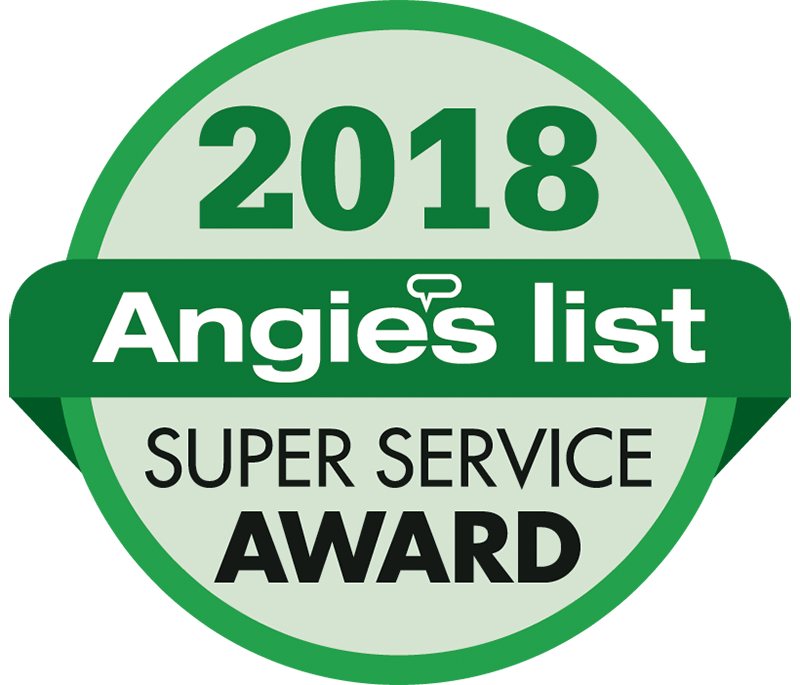 Our continued commitment to the craft was recognized again this week when AAA-1 Masonry & Tuckpointing was awarded the Angie's List Super Service Award for 2018! This award honors service professionals who uphold the highest work standards and maintain exceptional service ratings and reviews. Fewer than 5% of all companies in the Angie's List network receive this award. We are extremely grateful for the award and what it represents.
With winter beginning to loosen its grip on Chicagoland and January's polar vortex now fading into memory, we are starting to make preparations for the 2019 work season. Let one our licensed project managers work with you to assess your masonry building and make recommendations for repair. We can be reached by phone (773/622-7300 in the city; 847/491-9700 in the suburbs) or e-mail (Info@AAA1Masonry.com). If you need to reacquaint yourself with the services we offer, please take a moment to peruse our easy-to-read website (www.AAA1Masonry.com).
Thank you for your continued support.
Rob
---
Thursday January 31, 2019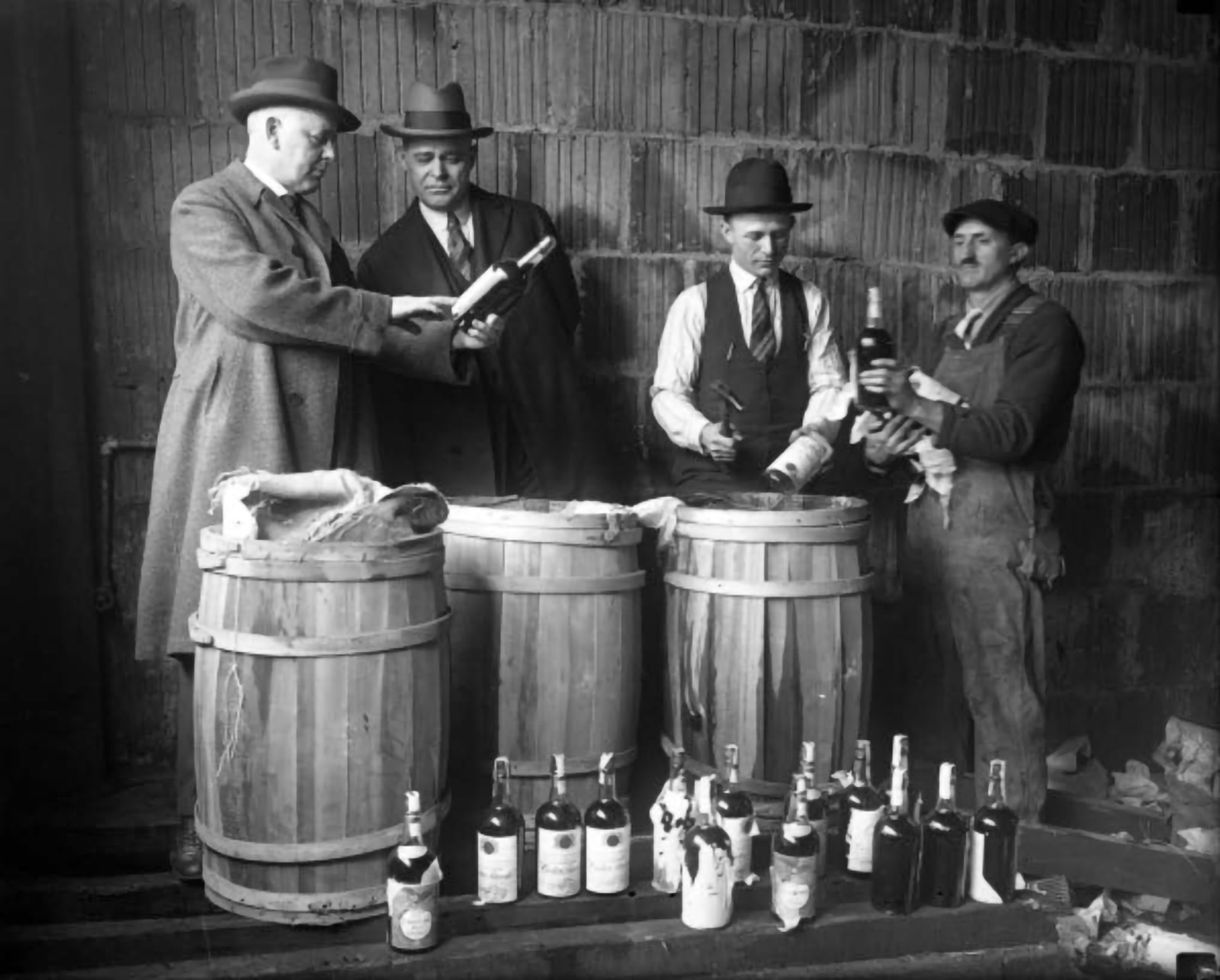 This image of a Prohibition-era liquor seizure crossed my desk recently and I thought the photograph was terrific in so many ways.
The image is obviously staged to show off the size of the seizure, praise the law enforcement officers who had a hand in making the bust, and communicate the fate of the contraband (see the officer third from left with hammer in hand).
The black and white image is well staged and side lit beautifully.
But what really caught my attention and put a smile on my face were the clay blocks used to construct the wall in the background! These 12" X 12" clay building blocks were commonly called "telephone blocks" because they were the size and thickness of a typical phone book.
These very durable building blocks were the forerunner to today's much maligned cinder blocks, and we commonly find these telephone blocks in walls and ceilings under many coats of plaster and paint in older apartment buildings from Hyde Park to Lincoln Park to Wilmette. In many detached garages from the late 19th century through the 1940s, these phone blocks were used to divide up the space when it was horses (not automobiles) that were parked inside. Based on the presence of the water pipe and spigot in the lower left corner of the image (and, no doubt, the gas line leading to a radiator just beyond the right side of the photo), this garage was likely constructed in the very early 20th century.
The licensed masons at AAA-1 Masonry & Tuckpointing love to geek out over masonry from the bygone era.
If your former horse stable-cum-garage (or any other building for that matter) needs an honest assessment from an experienced masonry restorationist, we would love to help.
Thank you for your continued confidence in our work.
-Rob
---