Stories From the Field
Post: Critical Facade Inspection Work
Sunday August 15, 2010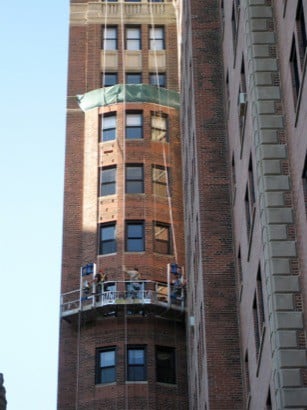 AAA-1 Masonry & Tuckpointing was called out to perform a critical facade inspection of a 16-story century-old building in the Lakeview neighborhood of Chicago.
Working in conjunction with an architectural/engineering firm, AAA-1 Masonry & Tuckpointing's licensed masons identified and corrected the defects in the facade while riding swingstage scaffolding custom built to accommodate the unique features of the building.
Annually, AAA-1 Masonry & Tuckpointing executes capital improvement projects and defect studies (for long-range budget planning) for dozens of condominium associations in the Chicagoland area and the suburbs. For an understanding of the inspection program required for your building, review the City of Chicago's Exterior Wall Maintenance Guidelines (PDF).
---