Stories From the Field
Post: AAA-1 Masonry & Tuckpointing Receives BBB's 2013 Complaint-Free Award
Friday February 28, 2014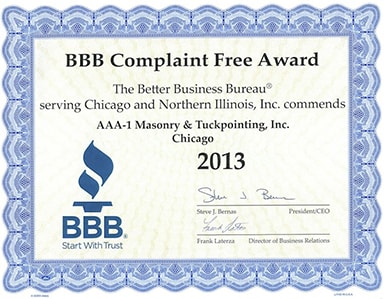 Just when I thought the extreme winter weather was going to do us in once and for all, Carolina (our fearless office manager), received this in today's mail.
Receiving the Better Business Bureau's 2013 Complaint-Free Award is a real honor, allows us to maintain our A+ rating with this venerable institution, and serves as an important reminder that commitment to the craft and customer service do pay off.
A heartfelt thanks to all of you homeowners, Association Board members, property managers and real estate professionals and inspectors who have supported us through the year. Your loyalty is recognized and greatly appreciated!
---