Stories From the Field
Post: Heavy-Duty Vinyl Tarpaulins - An Affordable Means of Stopping Water Infiltration Through Your Masonry Walls
Tuesday October 1, 2019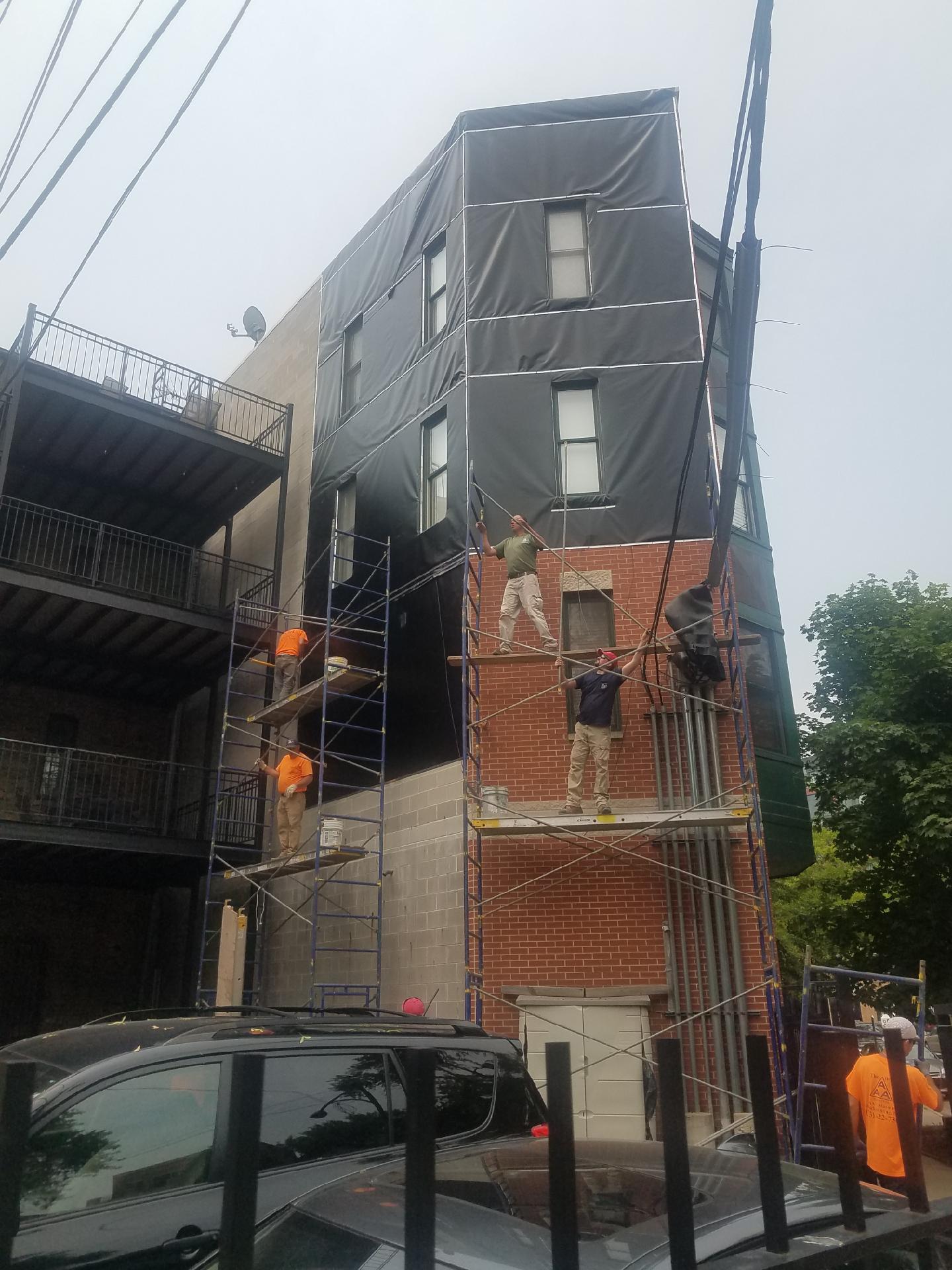 When nighttime temperatures start dropping below 27°F degrees with regularity, curing mortar runs the risk of forming ice crystals. Ice crystals reduce the life expectancy of fresh mortar and can result in a project that fails to perform as expected. During cold work days, many masons will warm their job sites with propane heaters to keep the mortar from forming ice crystals while they work but then turn off the heaters at night when they pack up to go home, exactly when the temperatures are dropping to their coldest. Not a good situation.
So when temperatures get too cold to work with mortar but buildings are still experiencing leaks and other issues, we recommend the installation of heavy-duty vinyl tarpaulin protection. Our 18-ounce heavy-duty vinyl tarps are made in America and designed to provide a physical barrier between your building and the snow, ice and rain for as long as you require. Our tarps are incredibly strong and durable and will not rip, tear or shred after a few weeks like the tarps you find in most big box stores and hardware stores. In fact, our vinyl tarps are so strong that the material is used for racing sails and is 4 ounces heavier than what the Major League Baseball teams pull onto their fields during inclement weather!
We secure our tarps with aluminum termination bars and tap cons (the same materials roofers use to secure your roof flashings) so they will not move, flap or fail.
Sometimes a home owner or condominium association needs to stop water infiltration through a masonry wall but lacks the immediate funds to pay for the corrective repairs. (That was the case for this building in Lincoln Park.) Because the installation of heavy-duty vinyl tarps costs a fraction of a full-blown masonry repair, some of our heavy-duty vinyl tarps have remained on buildings for many years while owners and condominium associations build up their repair funds. Chicago's brutal heat, sun, cold and wet have no impact on these tarps.
Our experienced masons are prepared to assist you with the most economical means of addressing your building issues, including the installation of heavy-duty vinyl tarpaulins. Call us at (773) 622-7300 if you would like to learn more.
Thank you for the opportunity to be of service,
Rob
---