Stories From the Field
Post: Look Up!
Wednesday May 28, 2014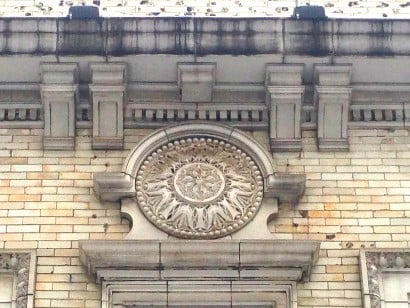 Everywhere you look in our great city there is evidence of extraordinary masonry craftsmanship from a bygone era…but sometimes you need to look closely to find it.
This is a photo of the third floor of what at first appeared to me to be a rather nondescript commercial building located on the 4600 block of North Broadway in the Uptown neighborhood of Chicago. The moment I spotted this upper floor detail, I leapt out of the car and photographed the image. What a beauty!
The full view of this brick, stone and terra cotta facade is obstructed by a multitude of elevated train tracks and a modern first-story commercial awning not in keeping with the period or elegance of the building.
Among the facade's show-stopping features is this gorgeous terra cotta medallion centered between the top-floor window head and the limestone watertable. It measures about four feet in diameter and its tight, organic design and stunning complexity is Sullivaneque in every respect. The creamy yellow bricks flanking the medallion are also quite lovely, and their glowing radiance appears to emanate from deep within — that's due to the mineral composition of the clay bricks and the gases used in the kilns to fire them. (Many of the heavy metals in the bricks and the gases used in the kilns were banned as a result of the passage of the Clean Air Act of 1970.)
Next time you're passing an older part of town, look up and revel in our city's historical (and irreplaceable) building stock.
For over 60 years, AAA-1 Masonry & Tuckpointing has lovingly restored brick, stone and terra cotta buildings of historical significance. If you've got a beauty like this one (or a diamond in the rough), give us a call.
---