Now that the weather has turned cold and the work season has drawn to a close, I found myself with extra time on my hands—at last!—and started perusing the Midwest edition of Construction Equipment Guide. It's full of advertisements for heavy machinery, trucks and tools of the trade and does a nice job of keeping its fingers on the pulse of the construction industry in aggregate. On the lower half of page 49 of the December 17, 2016 issue, I read this article: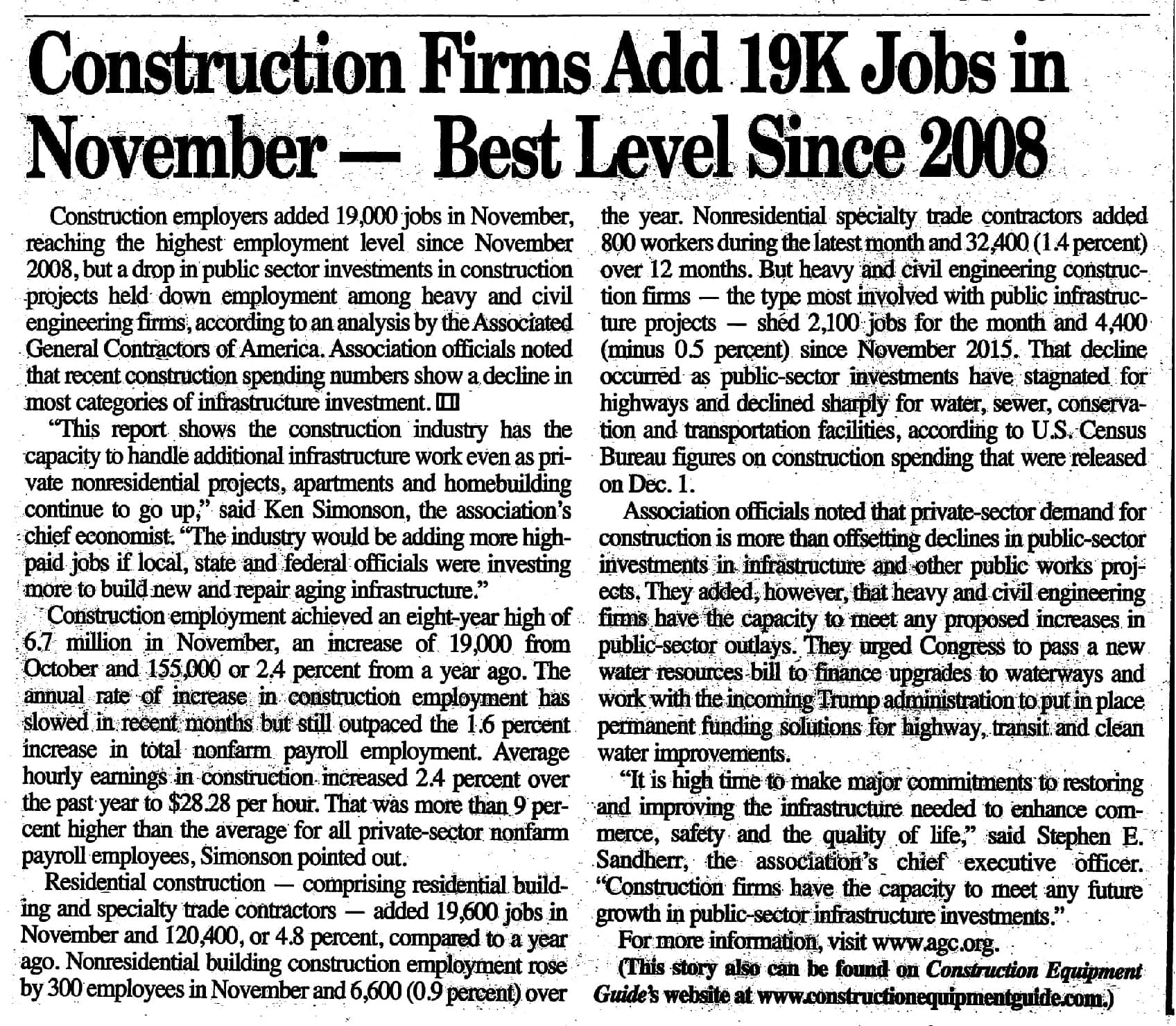 Being a part the construction trades, we at AAA-1 Masonry & Tuckpointing have observed what the article affirms: private sector construction activity has been increasing steadily and, apparently, outpacing the corresponding decline in public sector construction activity (a decline many are hoping will start to reverse course once the new Congress is sworn in).
As a masonry restoration company, AAA-1 Masonry & Tuckpointing has benefitted from the steady growth in demand for private sector construction activity, yes (a rising tide lifts all boats). But from my perspective, the bulk of our company's growth since taking over the reigns of the company more than a decade ago is directly attributable to our artisans' critical attention to detail, insistence on quality and craftsmanship, and impressive communication with our clients. I am extremely proud to have the opportunity to work with such talented and motivated men and women…many of whom measure their tenure at the company not in years but in decades!
Thank you for allowing us to remain an industry leader in the field of quality masonry restoration. We wish you and your family good health, peace and prosperity and a very blessed New Year.
With gratitude,
Rob
---
Thursday July 28, 2016
This is the latest in an ongoing series of safety-related posts. See earlier entries Part 1, Part 2, and Part 3.
I was driving through Lincoln Park this week and happened to look out the passenger-side window while stopped at a red light. I saw a mason working on top of what appeared to be a 20'-tall chimney (which itself was built atop a 50'-tall building) and fumbled for my camera to capture what I saw.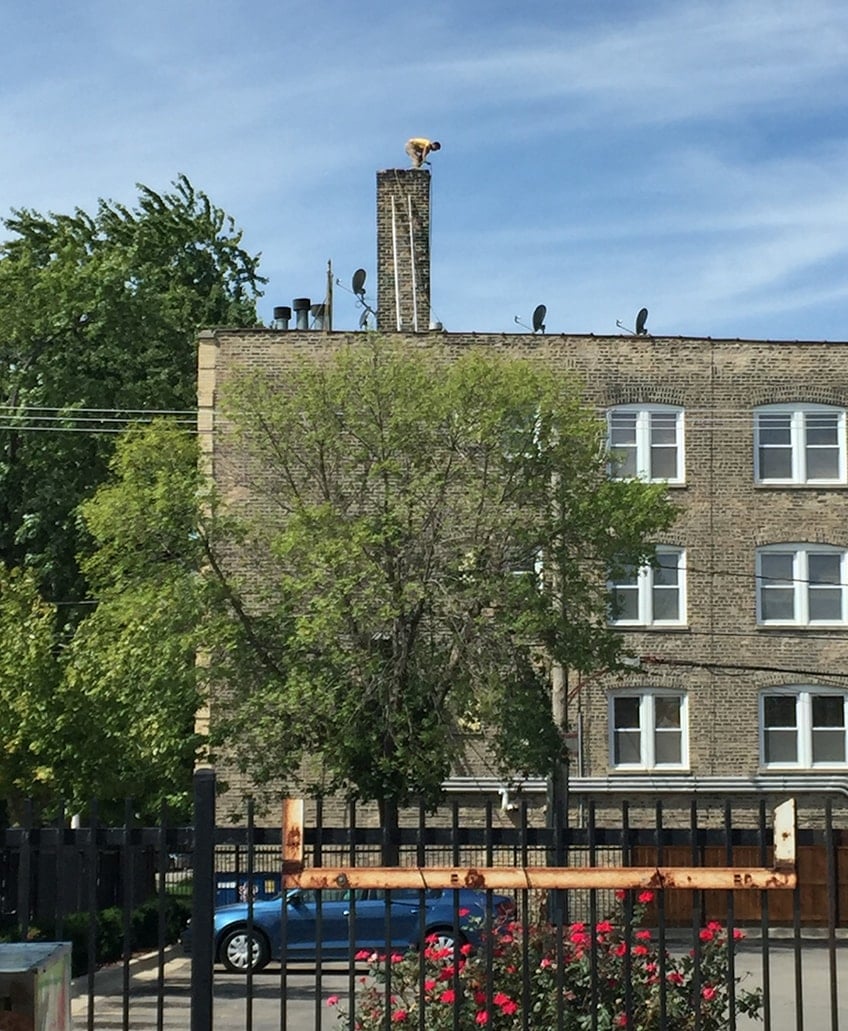 I had so many concerns about this mason's safety that I parked the car, ran over to the job site, and suggested to the worker that he return to the job after he had the equipment needed to perform the job safely. He told me he did it all the time and I didn't need to worry. Yikes, I hope he and the property owner both have good insurance (he needs it when he gets injured, and the property owner needs it when the worker's personal injury attorney suggests suing the building owner for unsafe work conditions).
Several work site safety violations scared me into action. Did you happen to notice them?
Safety Violation #1: The ladder used to access the top of the chimney is not tall enough. So, simply getting to the top of the chimney and getting down off the chimney are themselves risky endeavors.
Safety Violation #2: The ladder is not tied off to anything. If you look closely, the rope in the mason's hands is for pulling materials up and down.
Safety Violation #3: The worker is not wearing a safety harness with a lifeline tied off to anything secure and immovable. That means he could easily fall into the chimney shaft (likely an interrupted fall to the basement of the building about 70 feet below) and break his neck.
Safety Violation #4: The mason appears to be working alone. If he runs into a jam and requires immediate assistance (e.g., the unsecured ladder blows over in the wind while he is standing on top of the chimney), no one will be present to respond.
An easy solution to these job site safety violations would be to erect pipe scaffolding upon the flat roof, secure the scaffolding to the walls of the chimney using scaffolding clamps, and stand on this stable platform instead of the edge of what appears to be a 100-year-old chimney.
With good training, thoughtful job site set-up and an awareness that comes from decades and decades of field experience, we mitigate work site hazards and provide you with peace of mind.
Be safe out there and thank you for your support!
- Rob
---
Monday June 20, 2016
A client whose masonry home we repaired back in 2014 recently requested an inspection of a just-constructed home in the Bell School neighborhood that he was interested in purchasing for his family. The home was really lovely, the floors gleamed, the walls were pristine, and it had GREAT curb appeal.
But closer inspection of the building's envelope revealed a lot of short cuts. Most disturbing was the admission by the developer (after constant hounding for clarification) that the exterior brick walls were constructed with only a single wythe of brick with stick-frame construction behind it. With a price tag of almost $2 million that was a big disappointment. I would have expected the walls to be comprised of a minimum of two wythes of real brick (i.e., no cinder block back-up). The quality of the brick selected for the project was also a disappointment because the developer felt the need to seal it with a "high-quality sealer."
Masonry sealers are used to provide a hydrophobic barrier against wind-driven rain. (Learn more about masonry sealers in the 'Services' section of the website.) Masonry sealers are critically important for newer buildings constructed with a single wythe of brick or cinder block (also known as split-face block).
The term "high-quality sealer" means little in our business. Sales reps from masonry yards will tell you they only sell "high-quality masonry sealers" (why would they sell low quality products, right?) but these products do not hold up for very long against our Chicagoland wet weather events and should not be seriously considered.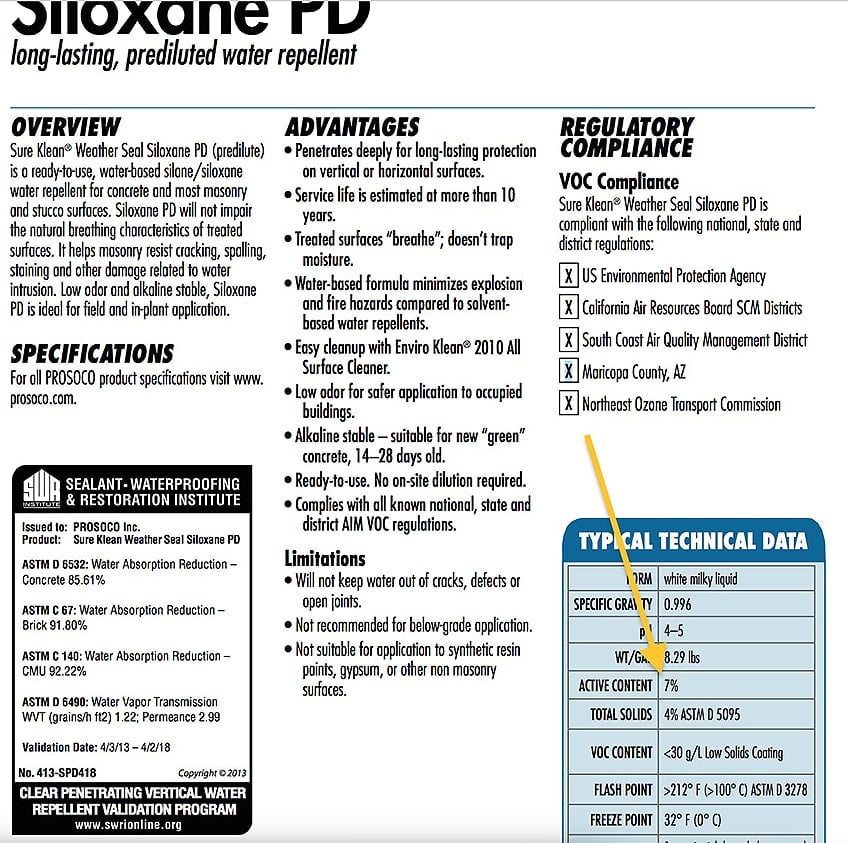 Eventually, the developer sent my client this promotional data sheet, which describes in more detail the masonry sealer he used. I was pleased to see that the active ingredient in this sealer was silane. Silane is the most effective substance you can apply to a masonry building, allows the walls to retain a moisture transmissivity rate in excess of 99.9% (so the walls breathe as though nothing at all had been applied), and when applied in sufficient quantity provides the very best protection against wind-driven rain events.
Unfortunately, the percentage of active ingredient in this product was only 7%. That is regrettably low. AAA-1 Masonry & Tuckpointing uses only 100% silane solutions. Years ago, we offered a 40% silane solution to our more price conscious clients. (So even our price sensitive clients received a product containing over 5-1/2 times the amount of active ingredient as the sealer applied by this developer to his very expensive home.)
While the percentage of active ingredient is a crucial component to ensuring a long-lived sealing job so, too, is the amount of sealer applied. There is no legal minimum application rate at which developers and masons must apply their sealers. That means developers can apply one gallon of sealer over 500 ft2 of a masonry wall and deem it "sealed," whereas AAA-1 Masonry typically uses 1 gallon of sealant over an area more like 75 ft2 of masonry wall.
I have yet to find out if my client decided to go ahead with the purchase of the home, but I hope he didn't.
If you need an honest and thorough assessment of the true quality of your masonry dream house, please give us a call.
-Rob
---
Wednesday May 18, 2016
Personal protective equipment are items worn to minimize exposure to hazards that can cause serious injury or illness. In the world of masonry restoration, our most common forms of PPE include hard hats, protective eye wear, face masks and respirators, work gloves, and steel-toed work boots.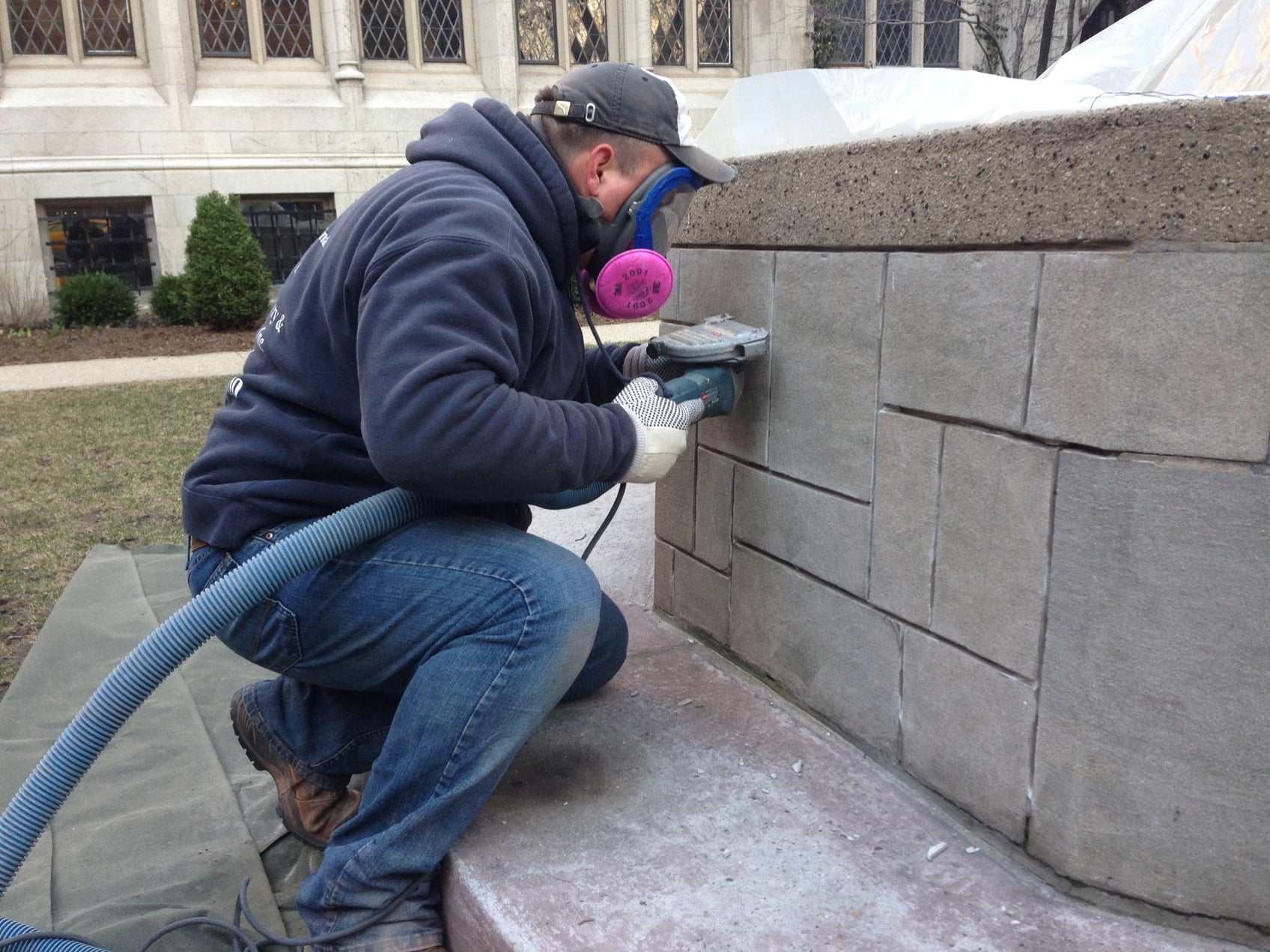 During a recent project on the Magnificent Mile in Chicago, the men ground out and tuckpointed defective mortar joints on a very lovely and historically significant century-old fountain (see image at rightabove). PPE on this project included full face masks with pink P-100 filters to avoid inhalation of mortar dust (a common cause of silicosis), long pants and gloves to avoid cuts and scrapes, and steel-toed shoes. The grinder held by the mason has a safety guard installed over the blade to avoid serious injury, as well as a vacuum attachment to minimize the amount of dust released into the environment.
From senior project managers to laborers, every one of the men at AAA-1 Masonry & Tuckpointing, receive on-going PPE training. We all carry OSHA 10 certification, scaffolding certification (suspended, fixed and system), and maintain an impeccable safety record.
— Rob
---
Saturday April 30, 2016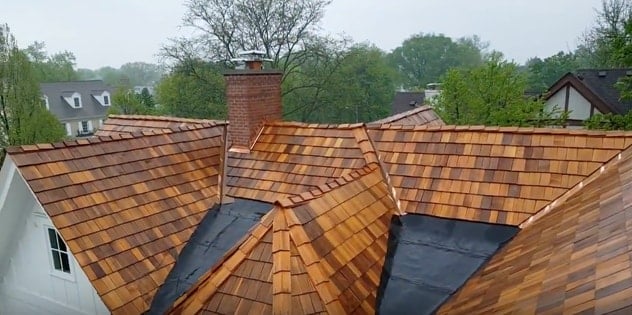 The men were busy dismantling and rebuilding what had been a relatively new chimney on a beautiful home in downtown Hinsdale.
The premature degradation of the chimney was due to the bricks selected by the developer and the amount of Portland cement used by the mason. These bricks do not appear to have been rated for severe weather and the mortar was much too hard (developers and architects often specify Type S mortar for brickwork because they wrongly assume harder mortar is better mortar when, in fact, mortar with high ratios of Portland cement are too rigid for bricks and can lead to premature cracking and spalling).
With a newly poured concrete cap in place and copper flashing installed, the rebuilt chimney is a real show-stopper.
If you think your chimney is in need of restoration, please give us a call at (773) 622-7300 for a free diagnosis and proposal.
— Rob
---