Watching the AAA-1 masons pour their hearts and souls into their work today I couldn't help but smile. How many other masons restoration companies can boast of over 1000 combined years of experience restoring brick, stone, mortar, terra cotta, window and door lintels, chimneys, parapet walls, stoop walls and caulk? And what other masonry restoration company directs as much attention to cleaning the premises after every day of work as it does the restoration of the masonry itself? We enjoy what we do and we expect a lot from ourselves as we lovingly restore your masonry structures back to their original weather-tight and beautiful condition. You can count on us to wow you with our workmanship and professionalism. Let us assist you with your next masonry restoration project.
---
Friday May 28, 2021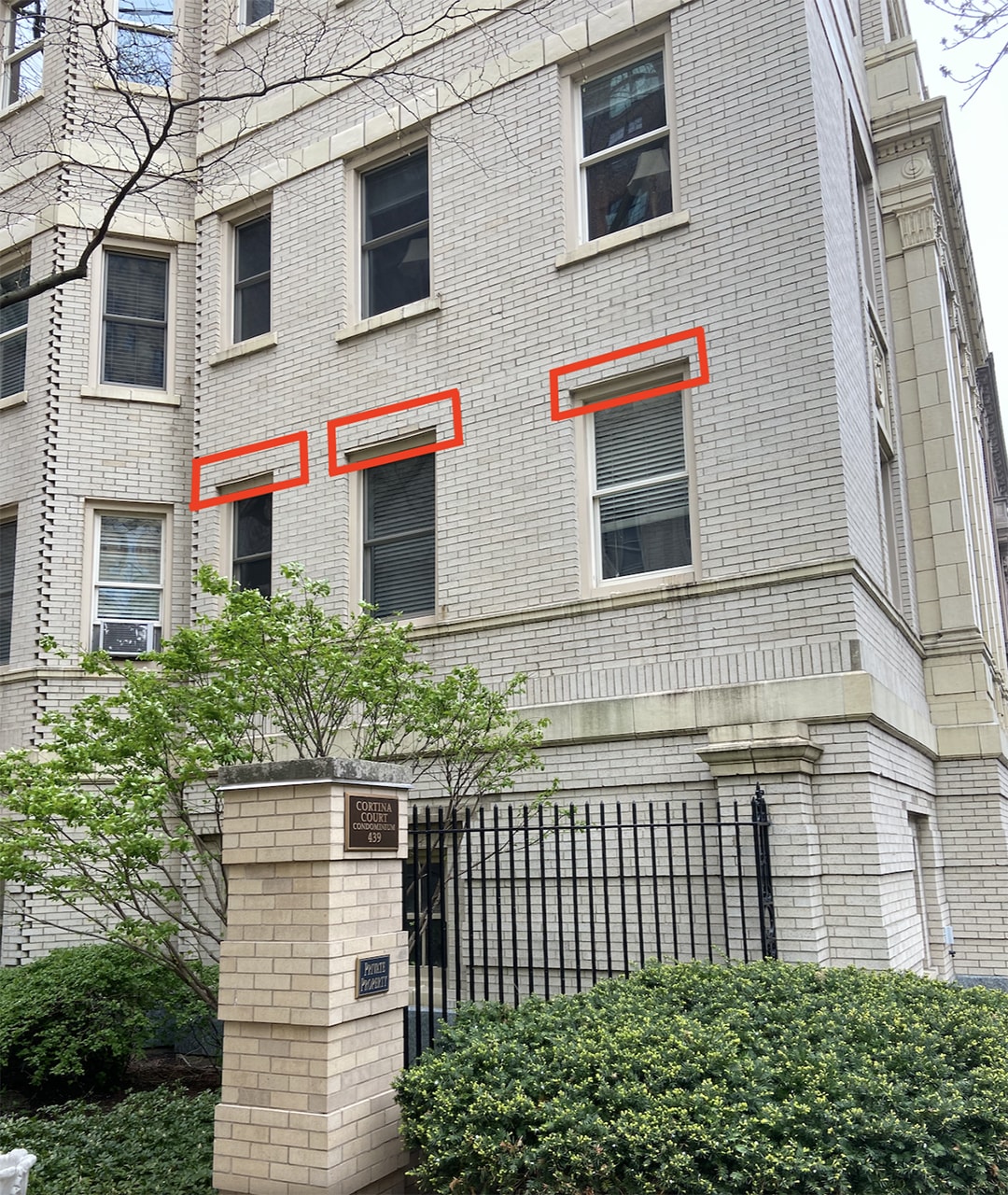 This month, AAA-1 Masonry & Tuckpointing was hired to locate and correct the source of water incursion at an elegant pre-war courtyard building in East Lakeview just steps from the lake.
After examination of the exterior and interior wall conditions, it was determined that defective window lintels were the primary contributors to the water damage observed inside the living spaces (refer to first photo). We could tell by the bowing of the steel lintels and the step cracks emanating from the corners of the window heads that these lintels were severely deteriorated and in need of replacement but we never could have guessed just how structurally deficient they were.
Lintels are often referred to as "angle iron" because the shape of the steel used to support the bricks and stones over door and window openings forms a right angle. In residential work, steel lintels typically have a thickness of 3/8" or 1/2". Steel of this thickness is capable of supporting hundreds or thousands of pounds of load without difficulty. The wider the window or door opening, the thicker the piece of steel should be to handle the load and maintain a nice straight shape. In the second photo you can see the cross section of a 3/8" piece of angle iron freshly cut and ready for priming and painting. This is what steel lintels should look like.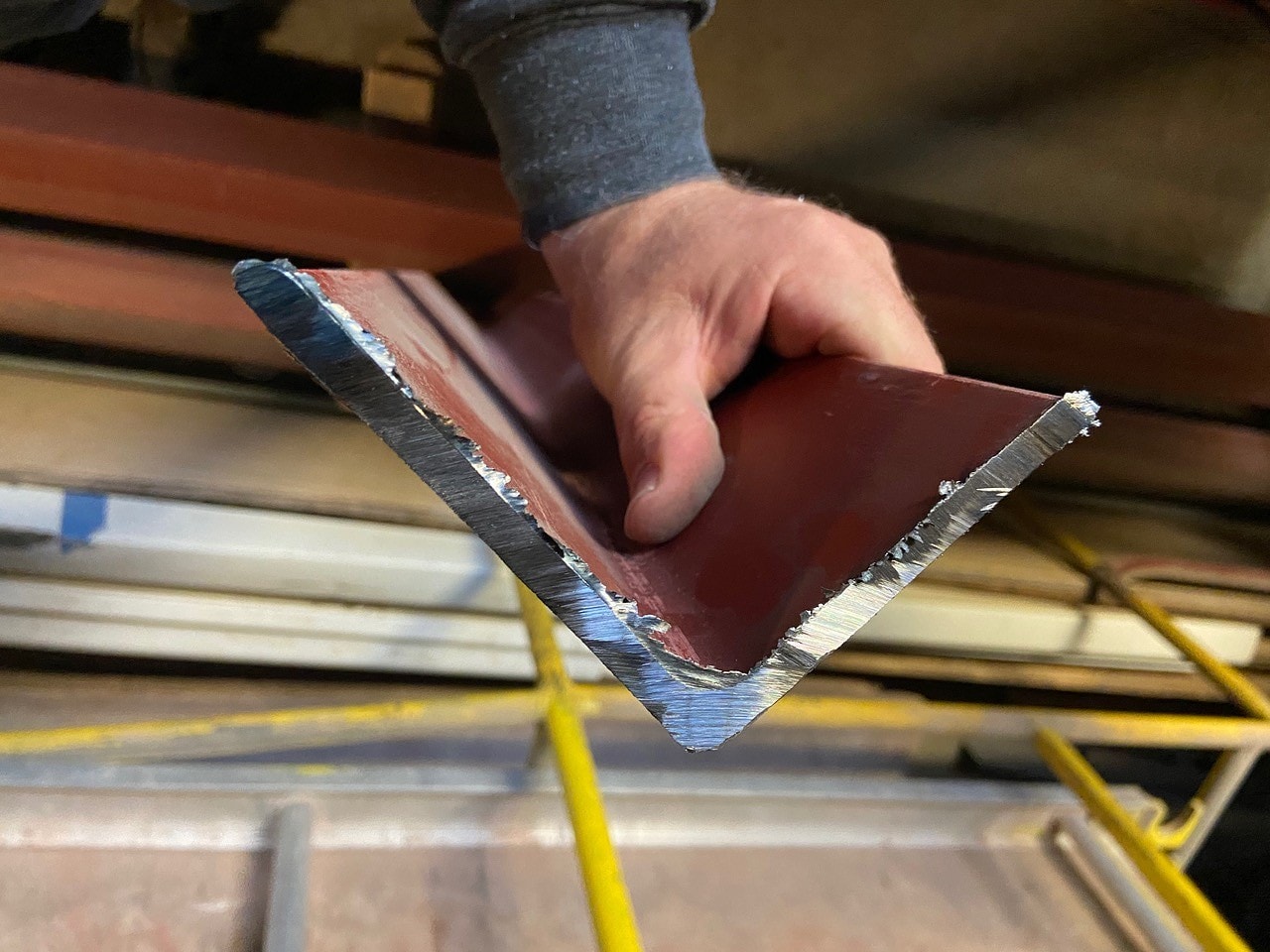 The third photo shows the condition of one of the window lintels removed from the building. Wow, that is a really awful steel window lintel! (Actually, what crew chief Andy is holding in his hand is more like 99% rust and 1% steel.) It is hard to believe that this hunk of junk once looked like the lintel in photo #2. When steel lintels are structurally deficient, more and more of the brick and stone load gets supported by the window frames and, not surprisingly, owners often complain that their windows no longer open easily because the frames are being crushed and deflected and no longer retain a true square shape.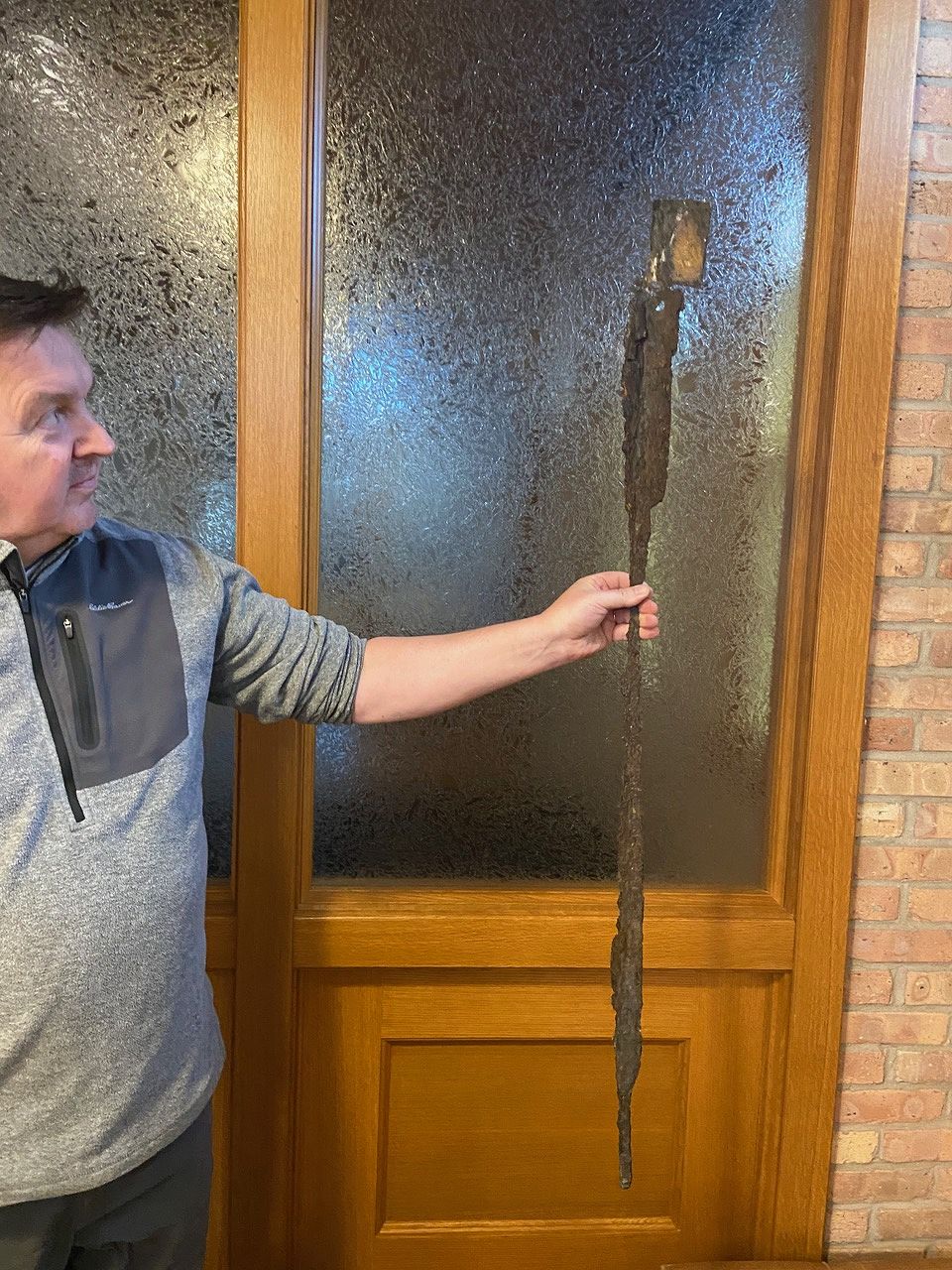 Replacement of window lintels requires strength, patience and technical skill. AAA-1 Masonry & Tuckpointing has the technical knowledge and extensive field experience to replace your window and door lintels correctly. (That means priming and twice-painting the steel before installation, and installing a proper flashing detail including stainless steel drip edges and end dams.). For lintel replacement work that lasts and lasts, please contact us for a free consultation.
Thank you,
Rob
---
Saturday April 24, 2021
AAA-1 Masonry & Tuckpointing is recognized as Chicagoland's premiere masonry restoration company not only for its commitment to quality workmanship but also for its commitment to on-going safety training.
Before the brick saws and mortar grinders get powered up, our project managers and foremen have thoughtfully considered the best means of protecting your job site, the masons who operate within it and the general public.
This past week our masons teamed up with master instructor Brian Haddle of Stone Mountain Access Systems to renew our Competent Person safety certifications for supported and suspended scaffolding systems. The classes were thoughtful, thorough and interactive. Classroom learning was supplemented and reinforced with hands-on assignments such as the construction of a multi-tiered fully decked system scaffold.
As company owner, I was very proud to watch the close collaboration among the masons, tuckpointers, laborers and project managers as they digested hundreds of pages of course material and constructed numerous scaffolding structures on their way to passing their exams.
Regardless of the size or complexity of your next masonry project, you can be assured that your team of masons is SAIA-certified in the correct and safe use of the access equipment needed to perform your job.
We look forward to assisting you - safely - with your next masonry restoration project.
Thank you,
Rob
---
Thursday April 1, 2021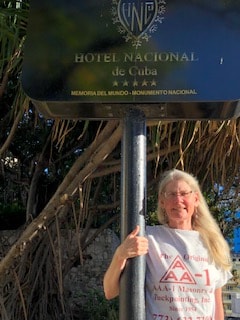 Long-time client, Ann Halverson, first discovered AAA-1 Masonry & Tuckpointing through the yellow pages way back in the 1990's. Impressed with the quality work she received on her then-residence in Zion and rental properties in Chicago, more than two decades later Ann still rings the office every time there is a masonry issue afoot. With a Ph.D in Chemistry and decades of apartment building ownership under her belt, Ann is no dummy! All the more reason we are proud to be considered her go-to vendor for masonry issues.
Being such loyal and vocal fan of AAA-1 Masonry & Tuckpointing, Ann received an honorary company t-shirt years ago and still wears it proudly, even when she goes abroad! Ann forwarded us this photo while taking a cultural trip to Cuba. What an honor for us. Thank you, Ann!
---
Thursday December 10, 2020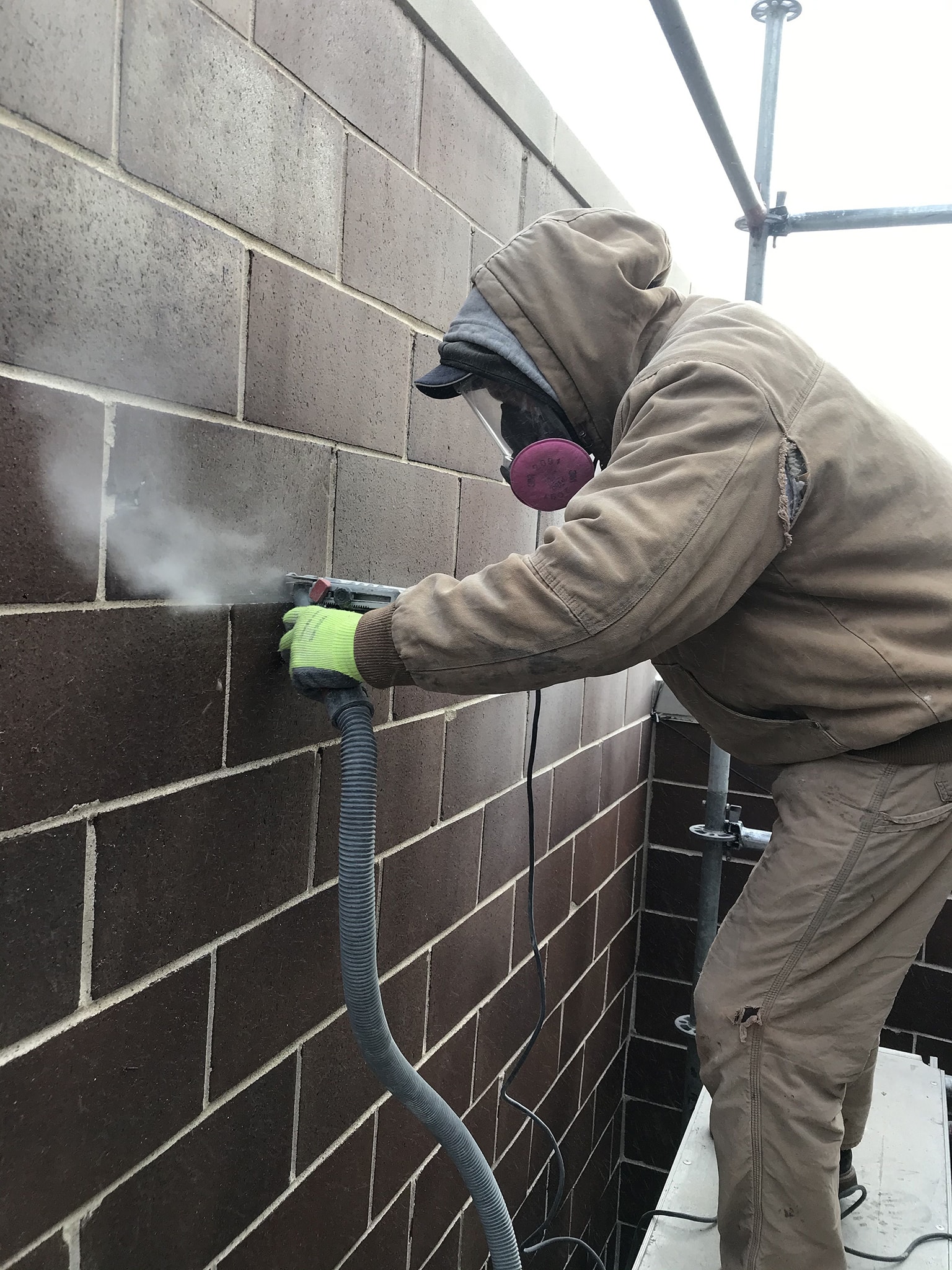 The licensed masons at AAA-1 Masonry & Tuckpointing are ready to assist you with your next restoration project.
We are as comfortable replacing shelf angles on a 110-year-old landmarked building as we are grinding and tuckpointing defective mortar joints on a 30-year-old cinder block townhouse.
For quality work that will last for generations, please call the seasoned experts at AAA-1 Masonry & Tuckpointing, Inc.
In continuous operation since 1954.
---