Stories From the Field
Post: Bring Your Child to Work Day
Thursday April 24, 2014
My buttons are bursting. Today I had the privilege of taking my 7-year-old daughter to work. This was a school sanctioned event, and parents were encouraged to take their child to work and show them how their day is spent providing for their families and contributing to a productive society.
Excited at the prospect of wearing her pink AAA-1 Masonry company sweatshirt, a pair of pink corduroys, and a matching pink headband, Charlotte's first stop with me was in Bucktown on Chicago's northwest side where we assessed the condition of the masonry on a 100-year-old single family home. Charlotte was in charge of documenting all of cracks in the mortar with my camera and writing down all of the colors she saw in the bricks. (Being a 100-year-old building, even the more pedestrian Chicago common bricks ranged in color from beige to brown to black to pink to purple, sometimes all in the same brick.)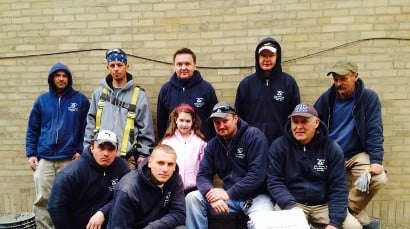 After our appointment, we went to visit one of the crews working on a beautiful six-story terra cotta building in Hyde Park on Chicago's south side. We arrived just as the men were taking their mid-morning break so we gathered everyone together for a group photo. The men resumed their grinding and tuckpointing and lintel replacement, and all of this activity really fascinated Charlotte…until she noticed an ant colony a few feet away and we went to explore that.
From Hyde Park we drove to the bank to deposit the payroll for the week, and Charlotte made her first deposit to the passbook savings account I opened up for her shortly after her birth. Responsible money management is an important part of running a business, and we discussed the advantages of depositing her future weekly allowance money in an FDIC-insured bank versus keeping it in her bunny bank at home.
From the bank we drove to the office where I drafted customer proposals, and Charlotte worked on coloring activities and a word search with important words from our trade (e.g., trowel, lintel, mortar, parapet wall, scaffolding) all provided by the office managers Carolina and Norma who have known Charlotte since her birth.
Admittedly, very few of my scheduled tasks were completed today due to Charlotte's boundless energy and unending questions but it was, without a doubt, one of the most gratifying days at work — and this is coming from a guy who loves what he does for a living. I encourage everyone reading this blog to consider bringing your child or grandchild or niece or godson with you to your place of work to show them what you do and the pride with which you do it. It may not seem like a big deal, but the experience for both of you will be unforgettable, will make after-work conversations with your little one more interesting, and will offer your child an opportunity to glean a greater contextual understanding of how our world works.
---