A Chicago man suffered a fatal heart attack while driving his car, and smashed into a building occupied by the State of Illinois.
The building sustained extensive damage. Fortunately, the facility was closed for the evening and no one inside was injured.
Due to the timing of the accident and the tenant's inability to close the facility during normal work hours, AAA-1 Masonry & Tuckpointing performed the restoration work on a Sunday for no additional charge.
AAA-1 Masonry & Tuckpointing, Inc. will respond to your masonry emergencies day or night. Please call us at (773) 622-7300 (City) or (847) 491-9700 (Suburbs) for a free assessment and proposal.
---
Monday June 15, 2009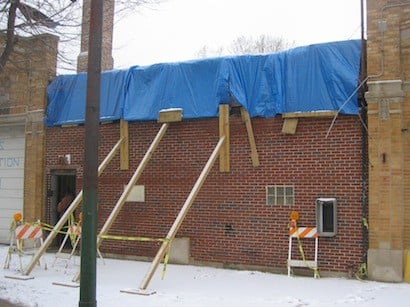 The owner of this South Side car detailing business paid over $2200 to have a "carpenter" install emergency shoring to her severely deflected brick facade. Within a week, the wooden supports had popped, shifted and were useless (see photo). AAA-1 Masonry & Tuckpointing installed heavy-duty vinyl tarps in only a few hours and for a small fee. Three years later, they are still protecting the interior space from water damage. AAA-1 Masonry & Tuckpointing has experience installing shoring and overwinter protection that lasts and lasts.
---
Sunday May 10, 2009
A well-respected property management company turned to AAA-1 Masonry & Tuckpointing to find the source of chronic water damage at one of its turn-of-the-century lofted condominium buildings in Chicago.
Initially, the culprit appeared to be severely damaged bricks and mortar stemming from a destructive sand-blasting job performed by the developer during condo conversion. An up-close inspection revealed hastily repaired mortar joints and poor quality brick replacement in the work area. Due to the rapid approach of winter and the Association's budget constraints, AAA-1 Masonry & Tuckpointing installed a heavy-duty vinyl tarp and stainless steel fasteners to protect the area until the spring.
When work commenced the following year, we were surprised to see just how poorly the developer had "rebuilt" the wall (see photo). No wonder the wall had a history of water infiltration!
After only one day of work, the defective masonry, including the brick windowsills, had been dismantled and rebuilt back to their original sound and plumb condition. Since the completion of the restoration work in 2009, there have been no reports of water in the work area.
Before: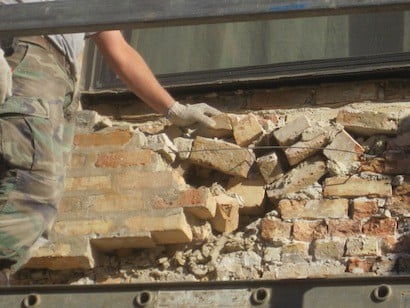 After: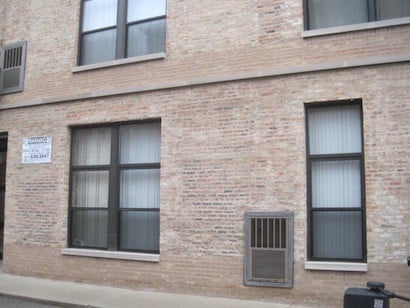 ---
Saturday November 15, 2008
A microburst uprooted a massive 100-year-old tree, which crushed this Keck & Keck designed structure in Chicago's Hyde Park neighborhood. Our experienced masons returned the structure to its original plumb condition by hand-blending sound original bricks with new bricks. The brick and mortar match were terrific, and the Neighborhood Association was delighted with the results.
Before: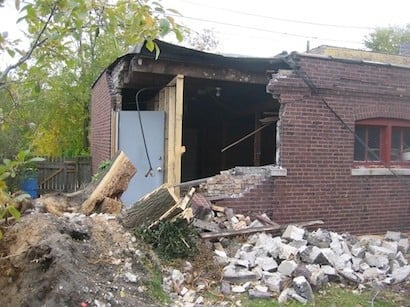 After: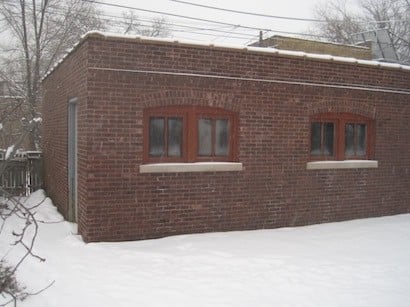 ---