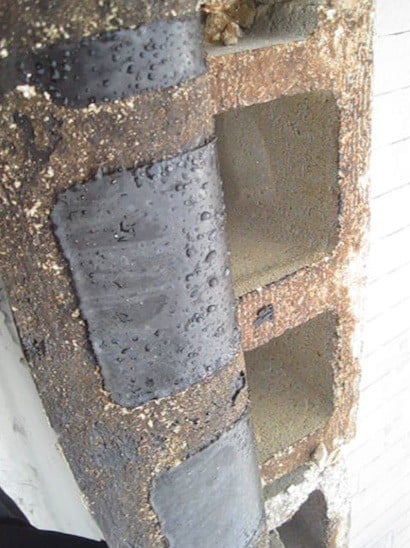 On almost a daily basis, AAA-1 Masonry & Tuckpointing receives calls from owners of newly constructed homes and buildings (i.e., structures built with concrete block or split-face block walls within the last 15 years) complaining of water leaks.
Because concrete blocks are mostly hollow and are so much more porous than bricks found in older structures, wind-driven rain usually blows right through the block walls and into the wall cavity. To limit the damage due to water infiltration through block walls, waterproof membranes are usually installed at each floor in a multi-story building and at the top of the parapet wall. Unfortunately, improperly installed flashings are very, very common in new construction dwellings and fail to stop water infiltration. That's why we see water marks on ceilings, and around balcony doors and windows in so many newer homes and apartments. Water infiltrations through concrete block walls short out electrical wiring, and burn out light switches and outlets, and are a real fire hazard. At a project in West Town (see photos), we pulled back a parapet wall's improperly installed flashing to discover water all over the underside of the material it was designed to repel. No wonder the block's hollow cells were soaked and the paint on the owners' bedroom walls were peeling!
Only when concrete block cells are grout-filled solid, and drip edges and membranes are sized properly and installed correctly can one be assured of a water-resistant flashing detail. All of AAA-1 Masonry's licensed masons know this. That's why after hundreds of parapet wall flashing installations we can boast a 99% success rate stopping water infiltration.
---
Friday July 6, 2012
These are birds-eye photos of a client's concrete block parapet walls after we removed the metal capping. Last we checked, empty cigarette packages, Coke bottles, and cardboard were not approved by the Department of Buildings as wall-reinforcing materials. They also do little to keep wall cavities dry. We grout-filled all of the accessible hollow concrete block cells, and installed through-wall flashing and stainless steel drip edges before installing properly sized quarried limestone capstones with cut drip edges.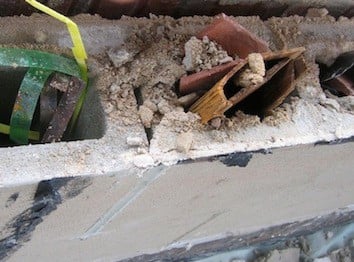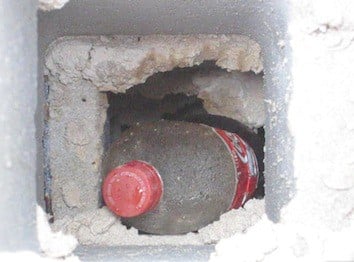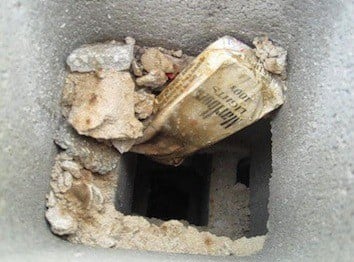 ---
Saturday May 5, 2012
Flashing or Through-Wall Flashing is a waterproof membrane used to stop moisture from penetrating porous masonry or to re-direct water out of a masonry wall. High quality flashings are composed of copper, lead-coated asphalt or other durable materials which do not degrade from long-term exposure to moisture or ultraviolet rays. When installed properly, flashings should extend the full width of the wall (or beyond) and are often paired with stainless steel drip edges.
---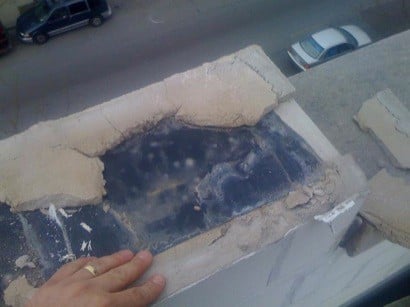 AAA-1 Masonry & Tuckpointing was called out to a Lincoln Park residence to determine how water was infiltrating the dwelling. After removing the parapet wall capstones we discovered that the builder had used an inexpensive plastic membrane—the black material laid across the top of the wall—and had failed to size it correctly (refer to photo at left). Membranes must extend the full width of the wall in order to function properly, and here the flashings stopped a good two inches inside the walls rendering it completely ineffective. After disposing of the inappropriate flashing and allowing the wall cavity to dry out, we installed the correct flashing detail and re-set the capstones.
---
In this photo, AAA-1 Masonry & Tuckpointing is in the process of replacing a severely deflected third-story window lintel in a loft building in downtown Chicago. To the horizontal leg of the new window lintel we secured stainless steel drip edges in a continuous bed of caulk, and installed self-adhering Grace "Perm-A-Barrier" through-wall flashing and fastened it to the brick back-up wall using termination bars, masonry screws and caulk. On the right end of the masonry opening, we are in the process of installing a field-constructed end dam designed to prevent water from migrating into the masonry jamb. (Note how the glass window has been protected with Visqueen and painter's tape.)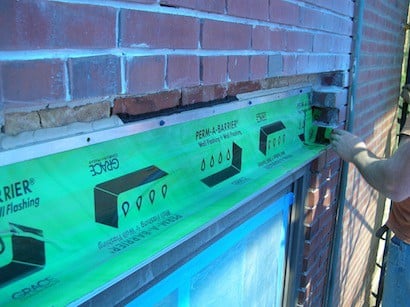 ---
Sunday April 24, 2011
AAA-1 Masonry & Tuckpointing performed a gut-rehab of an industrial office space in the Edison Park neighborhood of Chicago.
Extensive demolition work was performed over the winter including removal of the drop-ceiling tiles, the damaged carpets, the drywall and most of the plumbing. (In fact, just about everything but the door to the 60-year-old safe was in terrible condition and unable to be salvaged.)
After demolition work, it was decided that the exposed steel beams, wood roof rafters and Chicago common brick walls lent themselves to a terrific century-old industrial look. After creating larger openings for new windows and building new masonry walls for conference rooms and work space (and, yes, the original safe), everything was sandblasted to give it a rich glow.
---
---
Tuesday March 15, 2011
AAA-1 Masonry & Tuckpointing was called out to this Frank Lloyd Wright home in Hyde Park to correct the significant deflection in this 80' tall chimney. Due to its historical significance the City of Chicago's Department of Preservation was consulted and provided guidelines for the work.
After scaffolding was erected and the building could be better evaluated, the chimney caps were determined to be one source of water infiltration and structural damage to the bricks below.
Years ago, an earlier repair of the chimneys consisted of a thin, sloppy and insufficient smear of mortar applied right over the original cracked and eroded mortar joints. Seasonal rains and snows continued to damage the chimney shaft to the point of the severe deflection.
Although the severity of the damage required that the chimney be dismantled, nearly all of the bricks themselves were found to be in very good condition. (This was fortuitous for the owners since bricks of this size, color and texture are no longer produced.) As the chimney was dismantled, the condition of every brick was evaluated. Structurally sound and visually pristine bricks were cleaned of excess debris to ensure proper mortar adhesion (new mortar will not bond well to bricks with bits of old mortar still clinging to them).
With the chimney brickwork almost complete, the final step was to hand-pour a custom-sized concrete chimney cap.
---