Masonry Sealing/Waterproofing Solutions
Waterproofing solutions are intended to protect your masonry from the ingress of wind-driven rain. When properly applied, these solutions penetrate deeply into the mortar, concrete block, brick or stone substrate, chemically bond to the silica, and set up a hydrophobic layer of protection without staining or discoloring the masonry.
All masonry sealants are not created equal! AAA-1 Masonry & Tuckpointing applies only Chem-Trete 100% silane sealants due to their distinct advantages over inferior waterproofing solutions found at the big-box stores and many masonry supply stores:
The products dry clear and there is no adverse surface appearance (unlike inexpensive solutions which can permanently stain, streak or yellow the wall).
The products are not water-based, so they penetrate more deeply into the substrate and hold up to wind-driven rain and UV deterioration better.
Surfaces treated with Chem-Trete products are fully breathable. This means your masonry walls will not suffer from the problems associated with entrapped moisture including efflorescence and freeze/thaw damage. (Masonry paints and polyurethane and acrylic sealants smother the surface of the wall and prevent moisture from escaping.)
By preventing water and waterborne contaminants from entering the substrate, Chem-Trete waterproofing solutions reduce efflorescence, acid rain deterioration, scaling, dirt buildup, staining, corrosion of reinforcing steel, and mildew.
Chem-Trete waterproofing solutions are eligible for Leadership in Energy & Environmental Design (LEED) credits for both new and existing construction projects.
Chem-Trete products are 100% silane; that means a long service life. Ask about Chem-Trete's 10-year manufacturer's warranty available for commercial buildings and condominium associations.
AAA-1 Masonry & Tuckpointing seals masonry walls only with Chem-Trete 100% silane solutions. Click below to watch Mr. Tadd Breon perform a Rilem water tube test, and learn more about Chem-Trete 100% silane sealants.
---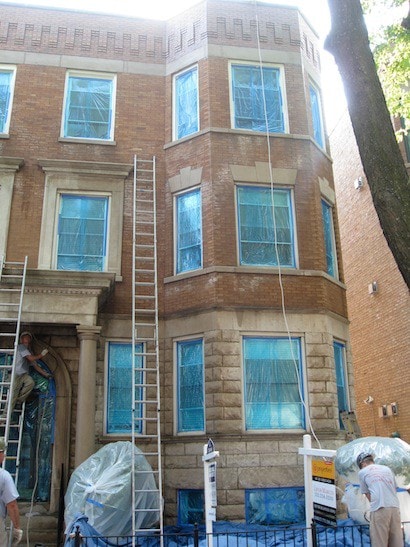 ---