Scaffolding
We have compiled a glossary of common masonry and tuckpointing terms to help you make informed decisions about your next masonry project. If you have any questions or want to put our decades of experience to work for you, contact us!
---
When our masonry restoration projects require us to access difficult-to-reach areas of buildings, we typically use one of two different classes of scaffolding.
---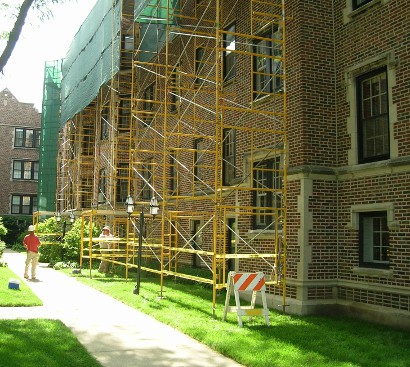 Tubular pipe scaffolding (also known as supported scaffolding) is built upon a solid surface like the ground or a level roof and is comprised of steel frames, cross braces and decking. The frames are modular, so nearly any conceivable height or length of scaffolding structure can be constructed depending on the requirements of the specific job. As the scaffolding structure or tower gets taller, we secure it to the brick wall using steel braces and stainless steel screws.
In the photo aboveat right, tubular pipe scaffolding has been built to a height of 50 vertical feet in order to access the upper areas of this four-story courtyard building in Evanston. As an extra precaution, the scaffolding towers are wrapped in dust-suppressing mesh, and caution tape and barricades are set up to direct pedestrian traffic.
---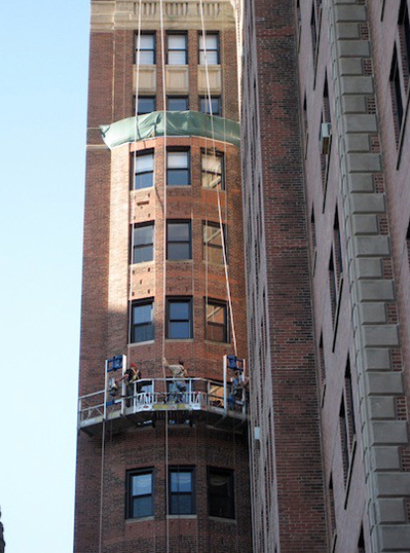 Swingstage scaffolding (also known as suspended scaffolding) is placed at the top of a building and consists of outrigger beams, work decks suspended with ropes, and counter weights. Swingstage scaffolding is especially useful when ground access is an issue (swingstages can be used between buildings with as little as 24" of space) or when height is an issue (it is much easier and less costly to operate an electric swingstage on a 20-story buildings than it is to erect and climb a 20-story pipe scaffolding structure).
In the photo aboveat right, swingstage scaffolding allows the masons and a structural engineer to asses the condition of the masonry at the top of a 24-story residential tower in East Lake View. The scaffolding is octagonally shaped to accommodate the rounded bay.
---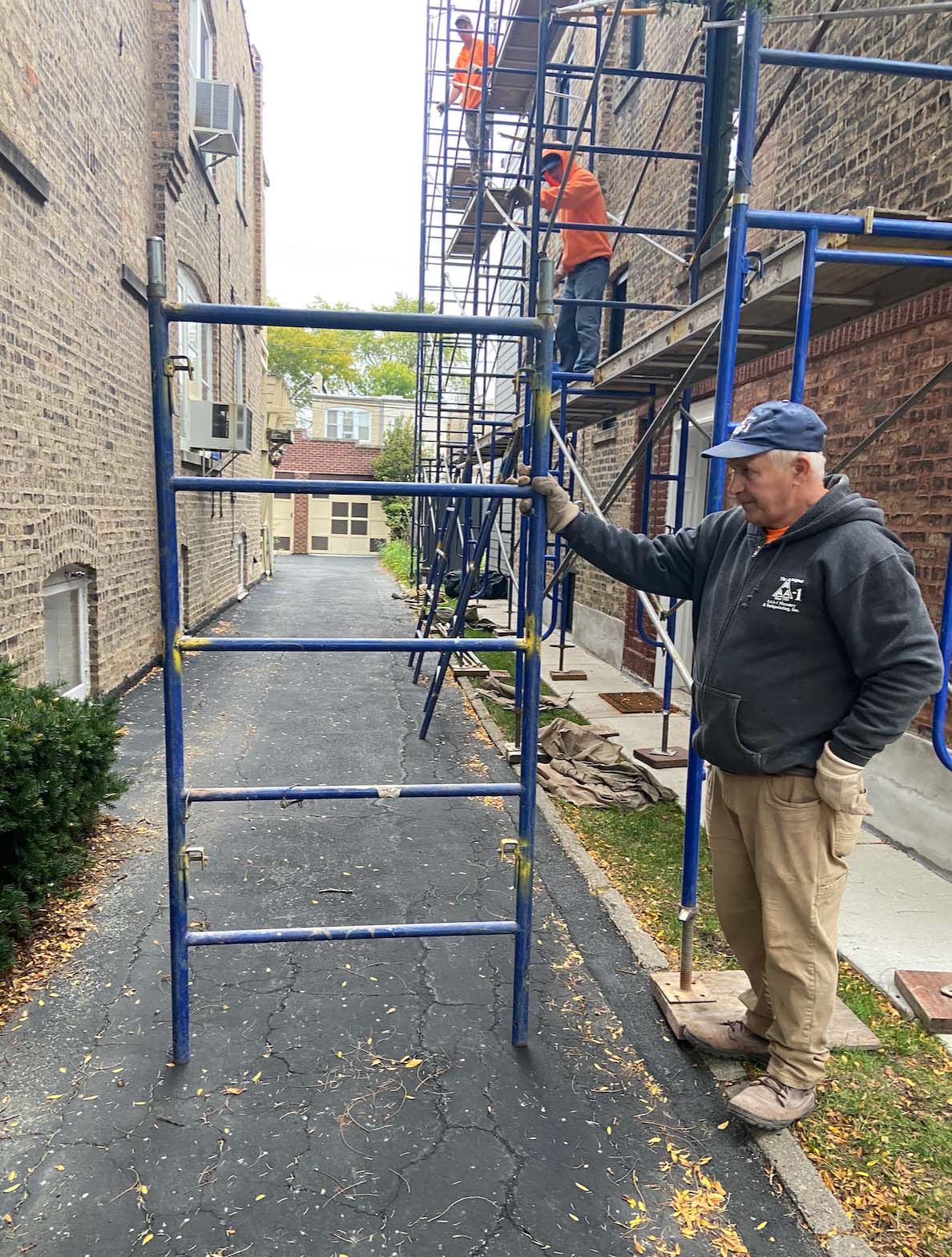 Ladder-type scaffolding allows our masons to construct safe and stable access.
In the photo aboveat right Michael shows off one of our narrower scaffolding frames suitable for tighter spaces. The horizontal rungs allow for easy climbing and ensure the frame does not twist or flex.
When assembled, each scaffolding frame is approximately 5 feet tall, and with the use of locking pins, cross braces and wall clamps can be stacked to create access many, many stories above grade -- as in the photo below, recently taken across the street from The Metropolitan Museum of Art at 82nd Street & 5th Avenue.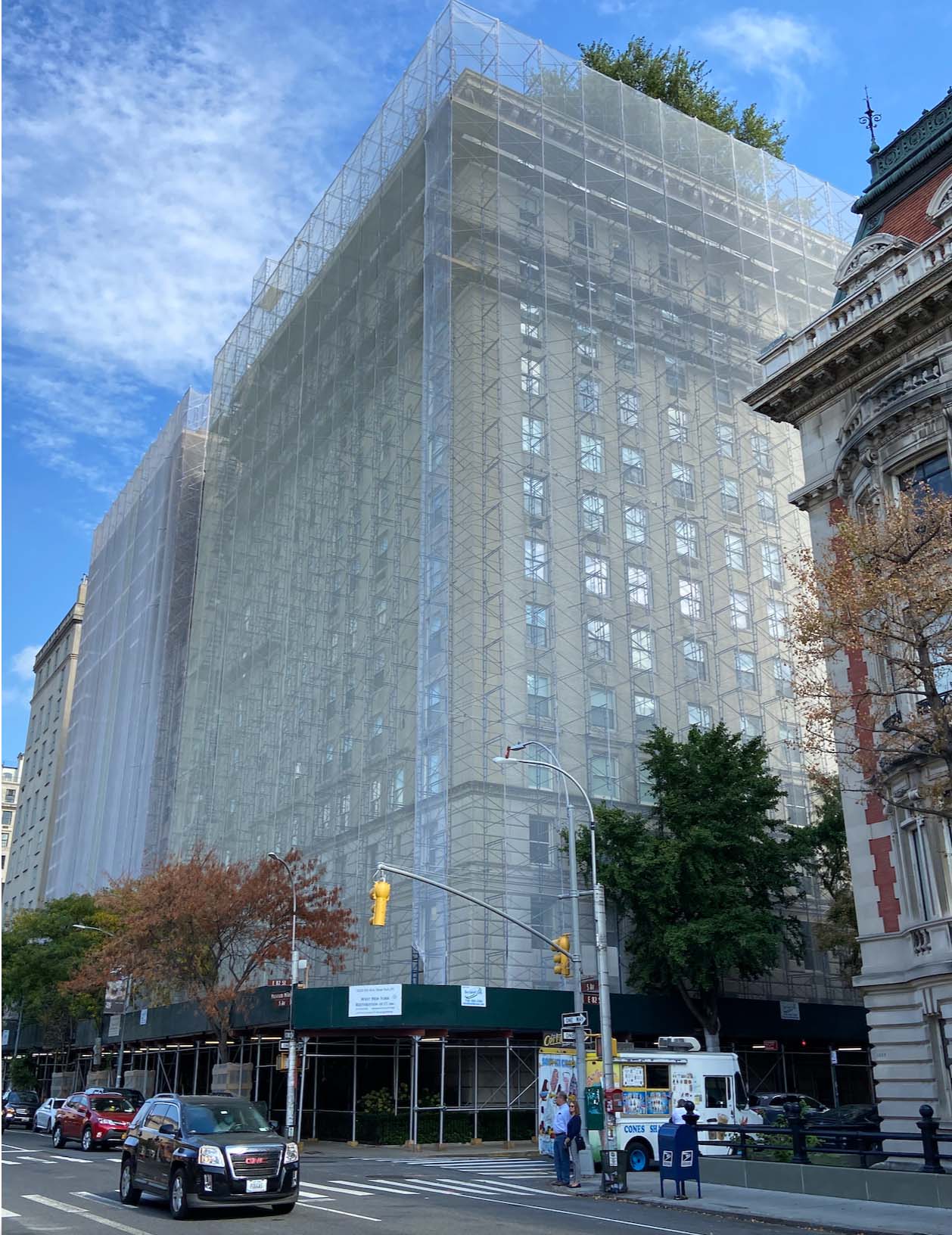 ---