Personal Protective Equipment (PPE)
We have compiled a glossary of common masonry and tuckpointing terms to help you make informed decisions about your next masonry project. If you have any questions or want to put our decades of experience to work for you, contact us!
---
Personal protective equipment (or PPE) are items worn to minimize exposure to hazards that can cause serious injury or illness. In the world of masonry restoration, our most common forms of PPE include hard hats, protective eye wear, safety harnesses, face masks and respirators, work gloves, and steel-toed work boots.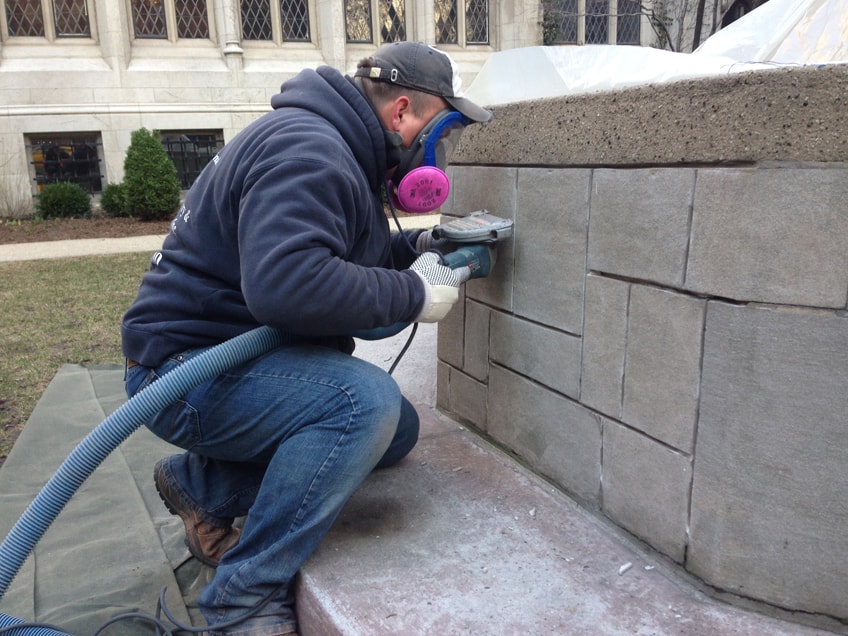 During a recent project on the Magnificent Mile in Chicago, the men ground out and tuckpointed defective mortar joints on a very lovely and historically significant century-old fountain (see image at rightabove). PPE on this project included full face masks with pink P-100 filters to avoid inhalation of mortar dust (a common cause of silicosis), long pants and gloves to avoid cuts and scrapes, and steel-toed shoes. The grinder held by the mason below has a safety guard installed over the blade to avoid serious injury, as well as a vacuum attachment to minimize the amount of dust released into the environment.
From senior project managers to laborers, every one of the men at AAA-1 Masonry & Tuckpointing receive on-going PPE training. We all carry OSHA 10-Hour certification, scaffolding certification (suspended, fixed and system), and maintain an impeccable safety record.
---