Dangerous & Hazardous Conditions
We have compiled a glossary of common masonry and tuckpointing terms to help you make informed decisions about your next masonry project. If you have any questions or want to put our decades of experience to work for you, contact us!
---
The City of Chicago applies the term Dangerous & Hazardous to any job site where imminent danger is present due to structural failures or other life-threatening conditions.
The accompanying photo was taken shortly after a roofing mishap burned all but the exterior walls of the esteemed Pilgrim Baptist Church in Chicago. Note the yellow steel beams bracing the wall on the right side of building. Dangerous & Hazardous site conditions usually require immediate correction and fines are usually levied if immediate corrective measures are not taken.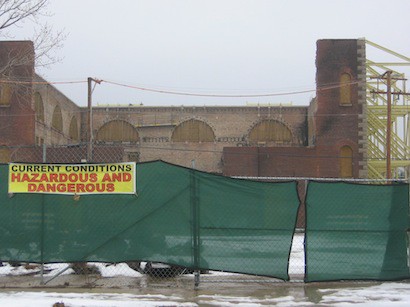 ---