Course / Coursing
We have compiled a glossary of common masonry and tuckpointing terms to help you make informed decisions about your next masonry project. If you have any questions or want to put our decades of experience to work for you, contact us!
---
A course of masonry is a horizontal row or layer of material.
Courses of masonry create height. (Do not confuse this with "wythes" of masonry which create depth.)
Depending on the manufacturer, somewhere between four and four and one-half courses of Chicago common brick are used to build one vertical foot of wall.
Because most concrete blocks (including bed joint) are 8" high, typically three courses of concrete block are used to build two vertical feet of wall.
Typically three courses of oversized utility brick (popular with new construction masons) are required to build one vertical foot of wall.
In the photo below, the stoop walls flanking the limestone steps were rebuilt using the original 95-year old capstones and footers and, from this angle, 11-½ courses of new face brick.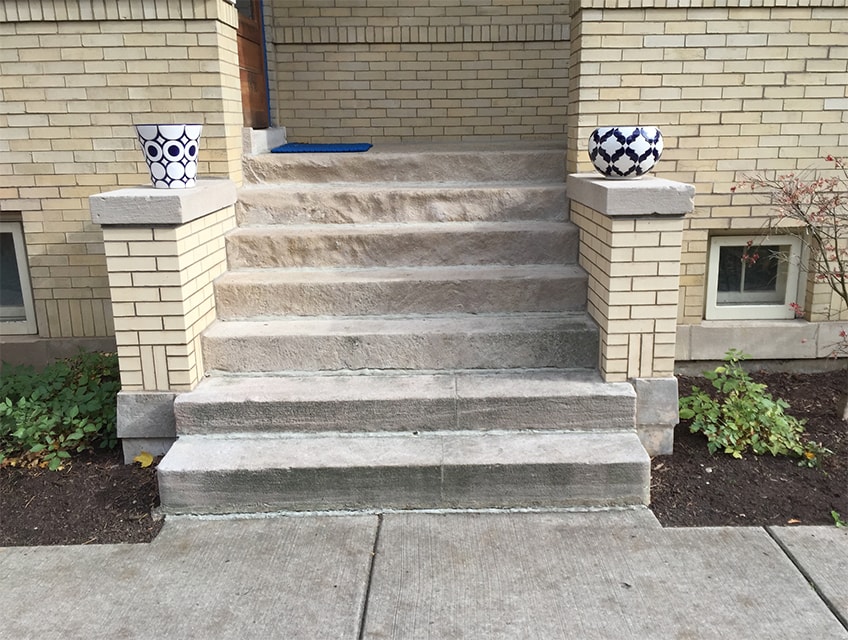 ---